Best Car Air Purifiers – Breathe Healthier Air
When I did not own a car, you wouldn't convince me how important it is to have an air cleaner, even if it was the best car air purifier. That changed very fast after purchasing our first family car.
I know I am not alone in this. However, you can learn the excellent health benefits of owning the best air purifier for the car without being in my situation.
It is vital to have a family who uses the car with you. Chances are, too, that you carry your dog in your car when you are out shopping or on an extended vacation. Do you smoke? You must put a car plug-in purifier in place if you intend other people to use your car. For those who smoke, it is utterly inexcusable not to possess an automotive air purifier.
In this write-up, I will provide you with the best automobile air purifiers that have become life changers to many who own cars. Let's jump straight into reviews of 8 top-rated Car Air Purifiers on the market. This is the only list you need to make an informed decision today. Let's roll.
1. IQAir Atem Car Air Purifier
Air pollution sucks. You drive in the busy streets and open freeways with the windows open and can't help but scream, "Oh shit."
The solution?
Find a car air purifier that will ensure you breathe quality air, no matter how disgusting polluted air is. It would be best if you had the IQAir for cars.
Why IQAir Atem Car?
The IQAir Atem Car is ideal for drivers always on the road. Whether you travel alone or you drive with your family, this air purifier lets you create a healthy environment for you and your loved ones to spend time. It can clean up to 99% of pollutants, from engine fume and allergens to pollen and dust.
This device uses a 3-stage filtration technology to remove the most air pollutant from the surroundings and supply clean air to breathe. The model doesn't use potassium permanganate. Instead, it includes activated charcoal to clear odor and freshen up the surroundings. So, you can breathe quality and worry less about black toxic fumes released into the air every day.
The IQAir mobile app lets you control Atem Car's fan speed with a simple screen touch. The speed settings release purified air at different intervals, with the first option every 12 minutes.
It takes less than 20 minutes to install this device in your car. To get the most out of it, station it somewhere in the middle. This way, clean air distribution to all interior parts will be easy.
2. PHILIPS GPC20GPX1 GoPure Compact 200 Car Air Purifier
The healthy air indicator is one feature that stands out in the PHILIPS GPC20GPX1 GoPure Compact 200 Car Air Purifier.
You need to know if the air is clean before you get into your car, especially if you're taking your newborn baby with you.
No products found.
Review
Philip's car air purifier's 3-stage filtering process is powerful enough to eliminate 99% of the pollutants in the air, including smoke, harmful gases, bacteria, dust, odors, pet hair, pollen, and other particles.
Such effective air purification is vital for your health and your family. This makes the air purifier an excellent addition to your family car.
Unlike many other car air cleaners, this one doesn't have an ionizer.
But it has something better: the HESA unique technology delivers three times better tobacco smoke residue (nicotine) removal. This is based on a TUV Germany test under DIN EN ISO 16000-9 and DIN ISO/IEC 28360:2009-11 and calculated for ten substances within a 1M3 chamber.
The air quality indicator ensures you get the most out of your car's air purifier. It uses an air-particle sensor to determine and show if the air quality is excellent (blue), fair (yellow), or poor (red).
The manufacturers paid attention to every detail, including installation.
To ensure you can use the product without any hassle, it has a 13ft 12V power cable which you can use with your car's cigarette lighter. It also features all the necessary mounting accessories, including a suction cup, anti-slide pads, and an attachment belt.
The compact size (6.9 x 6.9 x 2.9 inches) makes it fit in any corner you need to place it within your car.
Best of all, it doesn't require more than 3 watts of power. That's super energy efficient.
Pros
Air quality indicator to know if the air is safe.
Has mounting accessories for easy installation.
Energy efficient, using only 3 watts of power.
Cons
Using it with windows closed and no air conditioning can increase CO2, making you tired, so it is best to use it for a few minutes.
3. Autowit Fresh Car Air Purifier
Autowit, the manufacturer of this best car heap air purifier, is determined to make your life inside the car comfortable. For this reason, Autowit has introduced a 3-stage proper HEPA filtration in this car air cleaner.
One of the most extraordinary things I love about this best car ionizer is that it is built with an LED indicator in different colors.
Review
Autowit Fresh Car Air Purifier is a noise-free air-cleaning appliance. It is an excellent thing, especially at night when one sleeps. If you use it in the car, it will do the same, with no noise in the car.
With a 3-airflow speed and a significant size filtration element, Autowit Fresh Car Air Purifier ensures the air in your car is clean.
The Autowit automotive air purifier has USB operation and many air inlet CNC holes. These make it easy for the air purifier to clean the air and last longer.
This best car air purifier comes with an air quality indicator. With this feature, you will be able to know the quality of the air inside your car. The best thing about this LED light indicator is that it flashes in different colors.
Pros
The LED light indicator with different colors is beautiful and warns you about the air quality inside your car.
It is silent at 35dB.
Operates with other accessories, such as USB features.
Cons
Not all users love the LED light's different bright-colored flashes.
4. FRiEQ Ionic Car Purifier – Air Purifier & ionizer ionic air purifier
FRiEQ Ionic Car Freshener & Air Purifier is one of the best-selling in-car air purifiers. This air-cleaning appliance works best in eliminating smoke, dust, pollen, and other air impurities that might be present in your car. One of the things I love about this air purifier cum freshener is that it is incredibly affordable. The price hardly goes beyond $20 in most online stores. 
FRiEQ Car Air Purifier, Car Air Freshener and Ionic Air Purifier | Remove Dust, Pollen, Smoke and Bad Odors - Available...
The strongest car interior accessory releases 4.8 million negative ions per cm³ in your car for massive odor-fighting power.
Car air purifier produces negative ions that actually improve the air quality rather than simply covering up the smells like perfume.
Plugin the unit into the 12v outlet and let it run silently in the background to purify your vehicle cabin. Another benefit of our ionizer is that it does not require any filter changes or...
Car air purifier produces negative ions that actually improve the air quality by destroying odor-causing particulates from the air, rather than simply covering up the smells like perfume.
One of the best car accessories for men and women - the perfect random gift for anyone during the holidays.
Review
Although small, FRiEQ Ionic Car Freshener Air Purifier releases close to 4.8 million negative ions per cubic centimeter. This is one of the high-performing air purifiers on the market.
It is built to neutralize and kill viruses, allergens, germs, and harmful bacteria, leaving your car with fresh air.
The blue LED light enhances the beauty of this nicely designed best-car air purifier.
Uses 12V DC.
Pros
It is durable.
Kills germs.
Extremely affordable.
Uses 12V via a cigarette outlet.
It is super light at just 1.4 lbs.
Cons
I've not heard any complaints so far.
5. WSTA Car Air Purifier with True HEPA Filter Allergies Eliminator
WSTA stops at nothing to ensure it brings you the best air purifier for your car. I particularly love this car air cleaner because of its ability to eliminate allergies thanks to its ultraviolet germicidal lamp.
No products found.
Review
WSTA car air purifier does more than clean the air inside the car. After cleaning the air through the filtering screen, WSTA exports it into its ultraviolet section, where the appliance kills germs and harmful bacteria.
This car ionizer also releases many negative ions responsible for reducing common flu transmission.
WSTA Car Air Purifier with True HEPA Filter comes with two types of LED light indicators. One of the indicators is to alert you when it is the right time to change the filter.
The other indicator, which has three colors, shows your car's air quality. GREEN means the air quality is excellent. BLUE means the air quality is at its standard rate, and RED means the air quality is terrible and thus needs to be cleaned.
Although WSTA Car Air Purifier with True HEPA Filter is ideal for cars, it is a multi-purpose air purifier. It works in small offices, homes, and even small garages.
Pros
Most people who have used this air purifier for cars say it has helped them not to fall sick, feel dizzy, have a headache, or even get nausea.
It kills germs thanks to its ultraviolet lamp.
Comes with a large primary filter.
The LED indicators make it easy to operate the air purifier.
It is light at 1.1 pounds.
Cons
Sometimes, the readings aren't accurate.
The fan speed is a bit low.
6. Thinkga Car Ionizer Air Purifier
Thinkga Car Ionizer stands out from the rest of its competitors thanks to its anion production ability. Thinkga Car Ionizer's HEPA filter is almost permanent, unlike other car air cleaners. You do not need to change it.
Review
If you are driving with all windows closed, Thinkga Car Ionizer ensures you breathe fresh air thanks to its ability to increase anion density.
It is easy to operate the Think Car Air purifier. You only need to plug into the cigarette charger and set it on.
It comes with two USB ports that help charge an iPad and your phone while Thinkga continues to clean the air inside the car.
You can carry your Thinkga Air ionizer and purifier when traveling or staying in a hotel. Because it is portable, it can help you generate quality ions at your office, in your hotel room, inside your car, or even at home.
Pros
The noise level is deficient at 30 dB.
Ideal for people suffering from allergies and various respiratory complications.
It is portable and compact.
It is super light at just 1 pound!
The two USB ports will enable you to charge other devices as Thinkga best car air purifier continues to clean the air inside the car.
Comes with a 1-year warranty from the manufacturer.
Cons
Hard to know if it works because it is quiet.
7. NWK Portable Ozone Generator, Odor Eliminator, Air Freshener, and Sterilizer
NWK Portable Ozone Generator Cordless by NWK is one of the affordable air purifiers for cars. It doesn't cost beyond $70 plus shipping costs in most online stores.
One thing that makes NWK Portable Ozone Generator Cordless stand out is that it deodorizes your car in your absence. This means you will come back to a very conducive environment. Isn't this what you need?
No products found.
Review
NWK Portable Ozone Generator Cordless is praised for its ability to remove any awful odor from the car powerfully. Its strength does not end there. This ionizer for the car deodorizes the car interior, leaving it to smell soothing.
Some of the foul odors NWK Portable Ozone Generator Cordless is a master in eliminating include pet dander odor, baby's excretion smell, smoke, and smell from eating in the car.
This car air ionizer does more than eliminate foul odor and deodorize the car. It can kill germs, viruses, and any harmful microorganisms responsible for causing illness.
NWK Portable Ozone Generator is cordless and comes with a pre-programmable feature. With these features, you only need to turn it on when you step out of your car. This ionizer for a car will clean the air by the time you are back.
Pros
It is cordless. This makes it easy to carry around and store.
The ability to kill germs makes it one of the best on the market.
Comes with an automatic, pre-programmable feature.
It is affordable.
Has a lovely color.
Low maintenance is required.
Incredibly light, at 1.06 lbs.
Cons
No complaints so far, apart from the limited number of colors.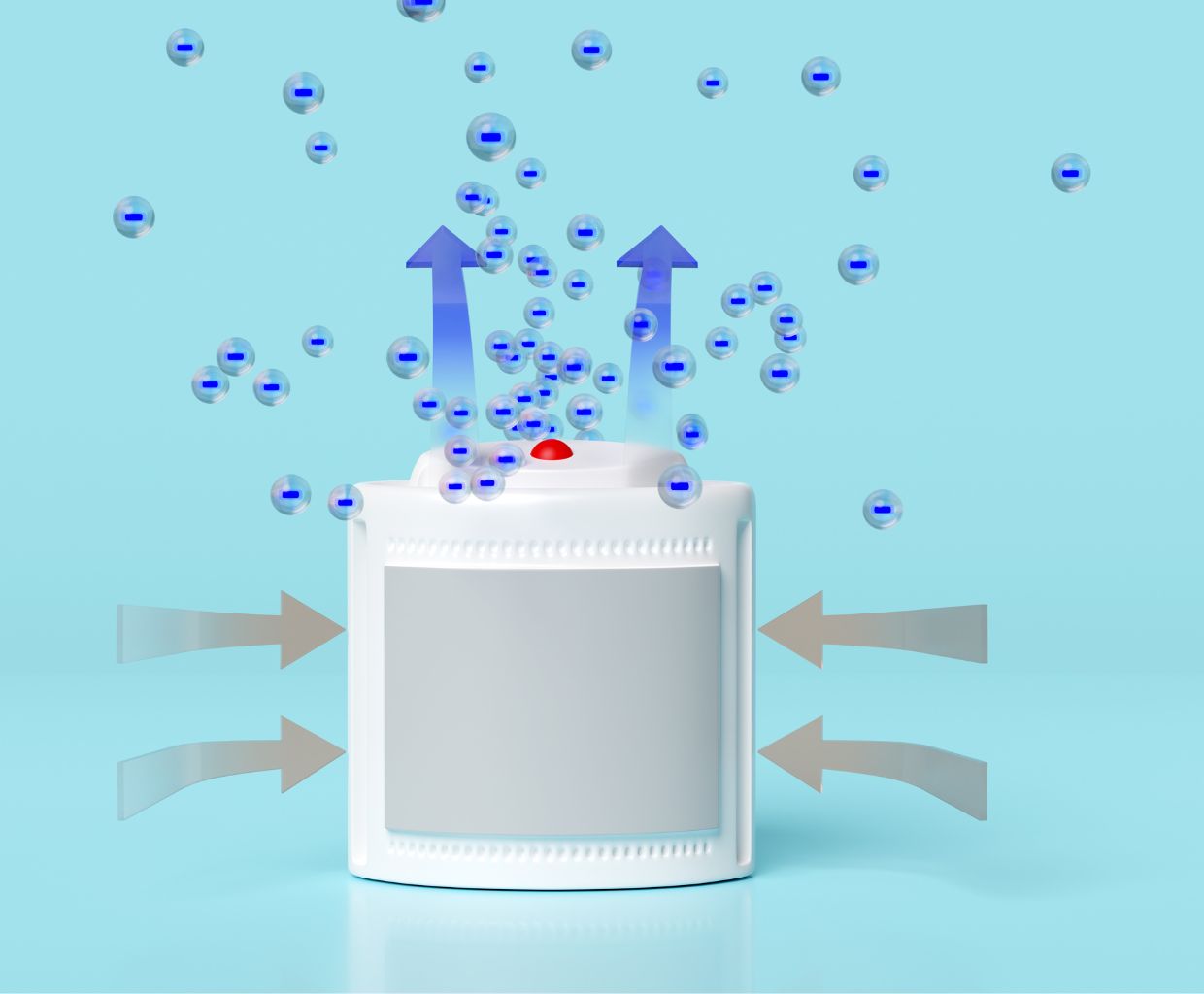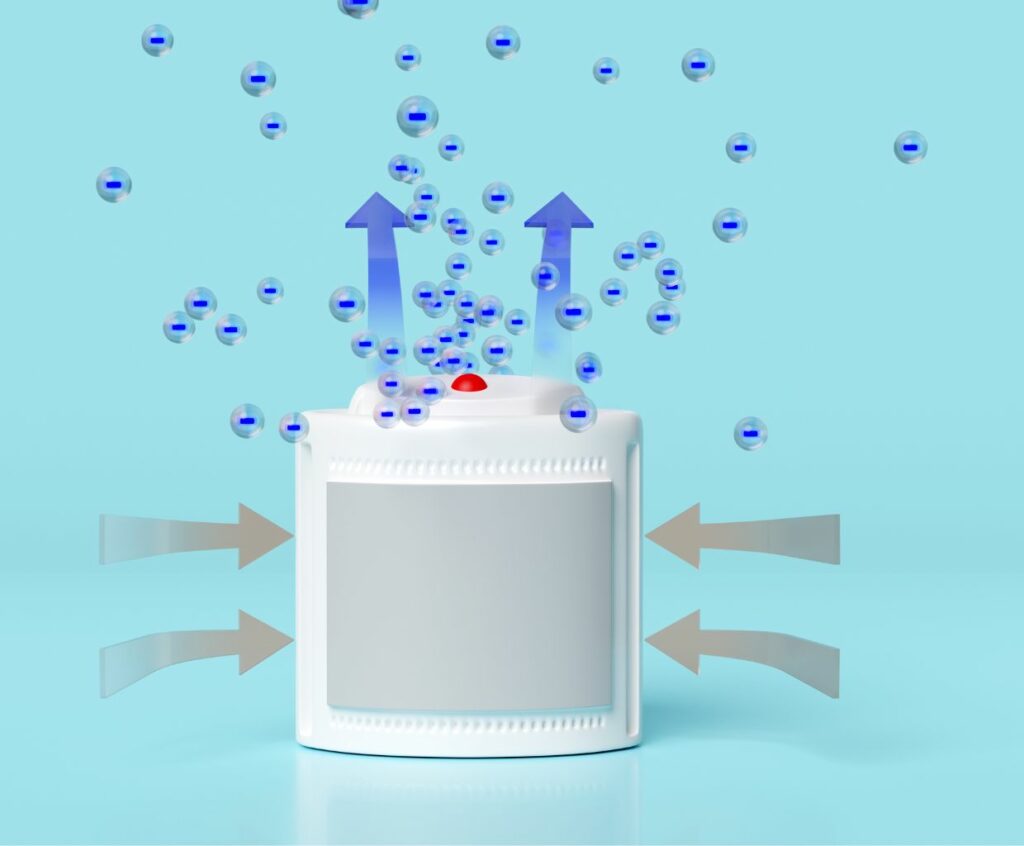 Car Air Purifiers – Buying Guide
Buying a car air purifier is not different from buying a car itself or any other home appliance. You will agree that before you purchased your car, you spent several days researching.
Some people take weeks or even months before settling on a specific car brand. It is the same when looking for the best car air purifier.
Although I have discussed several car air purifiers in the above section, more is required of you before you finally decide on any ionizer for a car from the above list. Some of the things to consider include the following:
Ionizers Vs. Filters.
Maintenance Considerations.
Easy to Use.
Placement
1. Ionizers Vs. Filters
You have undoubtedly realized that most of the car air purifiers on my list are ionizers. Does this mean that you must look for a car air purifier that is also an ionizer? Not necessarily!
However, I prefer ionizers because of their additional ability to clean the car's air and purify it further by ionizing it.
The latter ability means the emission negative (–ve) ions into the air. In turn, these ions attach themselves to positively charged particles, killing germs, viruses, and bacteria and removing the dust responsible for causing diseases.
For your information, if there is a sufficient concentration of negative ions inside a car, you won't be scared of contracting any respiratory complications because the air will be clean. Do you see why you need an ionizer for a car?
2. Maintenance Considerations
You'll agree with me if you were given a chance to choose either a car air purifier that requires maintenance once in three months or another one that needs maintenance after every seven days, you'd choose the former.
That is what I'd do. Nobody wants to waste time and money. It is even worse if you need an expert to do the most straightforward maintenance. I'd advise you to look for the best car air purifier that requires minimal maintenance.
3. Easy To Use
Without much, nobody wants a complicated appliance. A car air purifier with an elaborate control panel, easy-to-operate features, and a sleek, compact design will go a long way.
4. Placement
Where to place the car air purifier is also another consideration. Perhaps you have seen that while some air purifiers are portable, others may be bulky.
Depending on the size and weight of the air purifier and the available space in your car, you will purchase a small or a giant car purifier. This means you must read many car air purifier reviews to ascertain the ideal size and weight appropriate for your car.
Amazing Health Benefits Of Using Car Air Purifiers
Having the best car air purifier will improve the performance of your car's interior and the lives of those in it.
I have pointed out more than once in the preceding sections that the healthy condition of those in your car depends a lot on your choice of the ideal car purifier.
Here are three unique benefits of using the best car air purifier:
Reduce pollutant concentration in the car. Ionizers are credited with doing better in this.
By reducing or eliminating smoke odor, pet dander, dust, mold, bacteria, and harmful microorganisms, air purifiers leave the environment conducive for all in the car. This is especially important for people who have asthma, are allergic, or live with respiratory complications.
With the reduction or removal of germ-causing particles and pollutants, you are confident of saving money that would be used to buy medication, visit a doctor for checkups, and avoid unnecessary dangers that threaten the life of your loved ones.
Car Air Purifiers – Conclusions
Do not listen to anybody who says air purifiers don't work. What is more, do not give a damn thought to a person saying you cannot get the best car air purifier. Take your time to do the research.
Ultimately, I wish your family a stress-free life inside your car once you install the best car air cleaner on the market.