The Best Air Purifier for Odor Elimination
An air purifier is a device that removes contaminants from the air, thus providing cleaner air for you to breathe. Different air purifiers will remove different types of contaminants from the air. These contaminants range from bacteria, pollen, odor, and viruses.
Each air purifier has a specific filter designed to eliminate certain particles. There are different aspects to look at in your quest to find the best air purifier for odor elimination.
Top Rated Air Purifiers for Odor Elimination
Some of these features include:
It stands for High-Efficiency Particulate Air [HEPA]. This type of air cleaner removes most dust particles and allergens that cause breathing problems and is thus highly recommended by doctors.
You might be interested in a filterless air purifier. 
Some of the best odor-eliminator air purifiers use Ionization filter technology. They send negatively charged ions into the air, attaching to positively charged particles like dust and other common allergens. Hence, these particles become heavy and fall to the ground; therefore, they do not enter your lungs when breathing.
UV Light and Activated Carbon Filters
AUV Light uses technology to kill harmful viruses, bacteria, and other pathogens that make you ill. An Activated Carbon Filter removes particles from the air that cause odors and smells. It is an efficient air purifier for odor removal created by chemicals, mold, smoke, paint, pets, and other factors.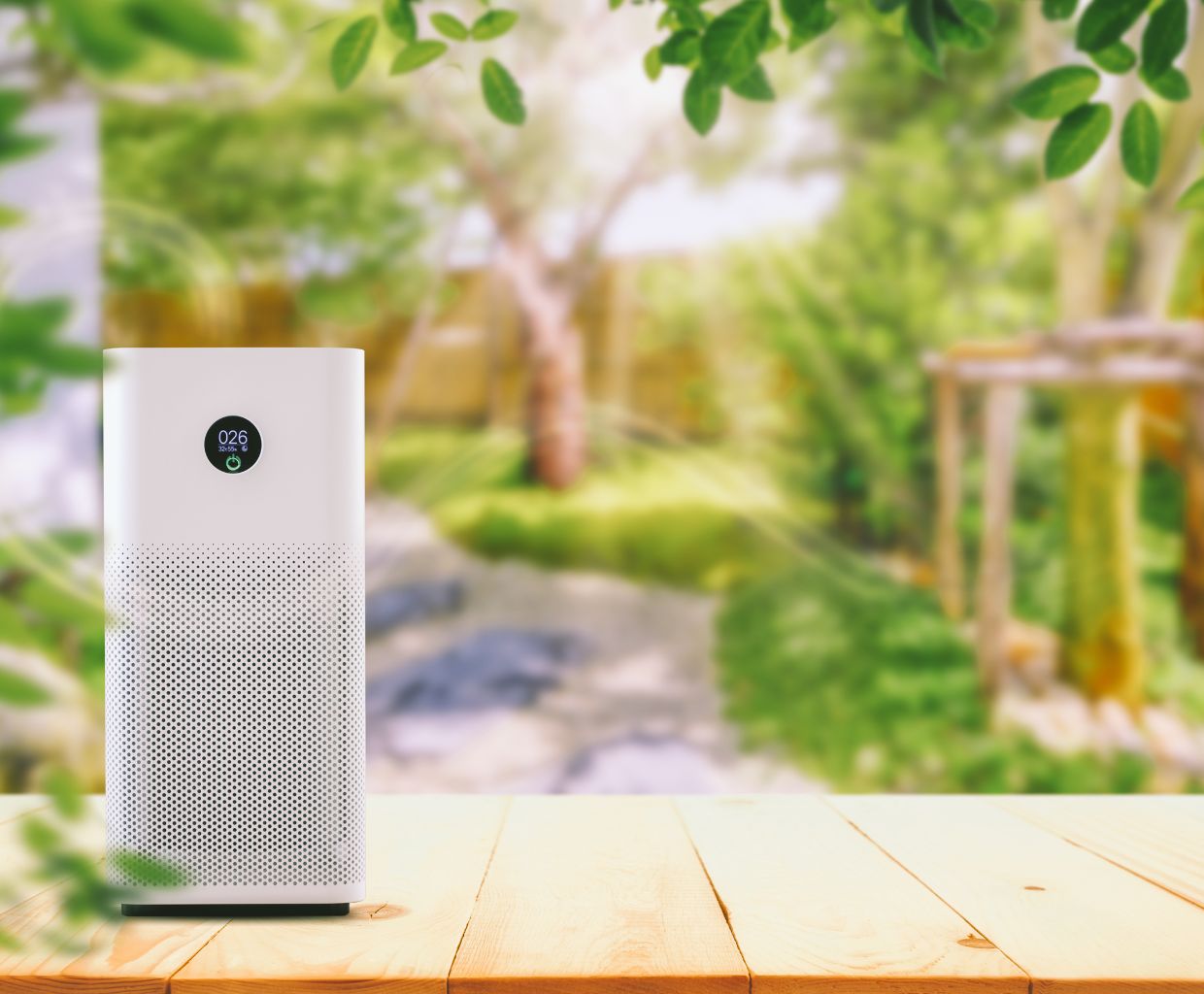 Reviews for Best Air Purifier for Odors
Some of the best air purifiers for odor elimination on the market right now include:
1. Rabbit Air MinusA2 Ultra Quiet HEPA Odor Remover Air Purifier 
The rabbit air purifier has a sleek modern design. It cannot be compared to the traditional round-shaped air purifiers you are used to. It is also silent, and you will barely realize it is turned on. It's nothing like the traditional air purifiers, which can sometimes be loud, and only then will you understand the best air purifier for odor elimination should be a silent unit.
This product has a six-stage purification system:
Pre-filter. This is where polluted air must pass through so contaminants can be captured.
Medium filter. Large pollen, mold, and dust particles are captured since they are small and can easily bypass the pre-filter.
Advanced BioGS HEPA Filter. This HEPA filter captures 99.97% of allergens, pollens, viruses, and fungi particles.
Customized filter. It doubles the protection with various customized filters for specific needs, especially pet allergy, odor remover, and germ defines or toxin absorbers.
Activated Carbon filter. It gets rid of odors, smoke, and chemical vapors.
Ion Generator. An ionizer, the last line of defense, captures the tiniest pollutants and traps them in filters.
These six-layer filtrations make the Rabbit Air MinusA2 extremely powerful.
It's the first air purifier that uses only one but twice the pre-filtration, thus reducing most of the large and medium pollutant objects.
It increases the efficiency and lifetime of MinusA2's True HEPA filter so that it can last up to two years. This enables you to reduce the cost of HEPA filter replacement.
Pros
High performance.
Advanced Air Filtration process.
Ultra quiet.
Lowest energy cost.
Cons
2. Winix 5500-2 Air Purifier with True HEPA, odor-reducing washable AOC Carbon Filter 
Winix is a Korean-based company with more than 40 years of experience in air filtration, focusing on home air quality, guaranteeing one of the best air purifiers for odor removal manufacturers.
It has a button that is much easier to press than Winix WAC9500. It also has one LED smart sensor with three different colors to show you precisely the current air quality status in your room. From the front of Winix 5500-2, there's an intake grill to bring in the air.
In the manual, manufacturers state that you should not put Winix 5500-2 in direct sunlight to avoid product failure. It has two handles, making it easy to move anywhere in the house because the weight is only 15.4 pounds. It has four stages of air purification combining all the greatest Winix technology to purify your home air. They include:
Pre-filter. It is a permanent pre-filter since it is washable. It captures large particles of pollen, dust, and pet hair.
True HEPA filter. The filter cannot be washed and captures 99.97% down to 0.3 microns of allergens, virus particles, and pollen.
Activated Carbon filter. It is made of high-grade granular activated carbon, which protects against VOCs. It is an odor-eliminator machine and reduces smoke. This filter is washable to extend its effectiveness.
Winix Plasmawave Technology. This technology is a kind of ionizer that further reduces pollutants. It can either be switched on or off.
Sale
Winix 5500-2 Air Purifier with True HEPA, PlasmaWave and Odor Reducing Washable AOC Carbon Filter Medium , Charcoal Gray
True HEPA filter captures 99.97% of airborne pollutants; dust mites, pet dander, pollen and other allergens as small as 0.3 microns
Washable AOC Carbon Filter, made from activated carbon granulars for removal of household odors. Decibels 27.8 dB
PlasmaWave acts as a permanent filter to safely break down odor, allergens, chemical vapors and other pollutants with no harmful ozone
Smart Sensors gauge the air and our Auto Mode adjusts the fan to filter the air as needed; with a sleep mode for silent night time operation
CADR rated for 360 square feet room size. Suitable for medium and large rooms; kids bedrooms, family rooms and kitchens
Winix 5500-2 utilizes the powerful True HEPA filter with the well-known Plasmawave Technology to destroy even the smallest pollutant particles. It is the best air purifier with a washable filter.
Hydroxyl Radicals formed by Plasmawave attack airborne pollutants that include viruses, bacteria, germs, odors, and chemical gases (VOCs). The destroyed pollutants will reform into water vapor or harmless water molecules.
Winix 5500-2 covers a larger room with a better CADR rating than even the later models of Winix air purifiers. It has an excellent smart sensor with a remote, which helps detect changes in air quality.
Pros
Advanced technology.
You get value for your price.
High overall performance.
Cons
Unpleasant smell.
Some still claim that Plasmawave irritates asthma.
Electromagnetic interference from certain electronics may cause product malfunction.
3. LEVOIT LV-PUR131 Air Purifier with True HEPA Filter
Levoit has been one of the best air purifier manufacturers for odor elimination for many years. Levoit LV-PUR131 is a powerful air purifier device in Levoit's battle with asthma and allergies. It has a commercial True HEPA filter that is being tested strictly to meet the highest standards.
It costs the same compared to Winix 5500-2 and the old Honeywell HPA300. It has lifetime support, the latest technology and it's the prettier of the three. Levoit LV-PUR131 has a basic design, and there are more spaces inside this air purifier than the portable LV-H132, so you can put it inside the larger air filter. It is still slim looking and can fit easily anywhere in your house since it is only 7 and 18 inches deep.
LEVOIT Air Purifiers for Home Large Room, Hepa and 3 Stage Filter Captures Pet Allergies, Smoke, Dust, Odor, Mold and...
NEUTRALIZE SMOKE&ODORS: The rapid clean air delivery rate and High-Efficiency Activated Carbon Filter work together to quickly neutralize airborne pollutants in your home, adsorbing pet smells,...
IDEAL FOR ALLERGIES: The H13 True HEPA Filter is superior to H11, capturing at least 99.97% of airborne particles 0.3 microns in size, including dust, pollen, pet dander and smoke particles; This...
SLEEP ALL NIGHT: The air purifier filters the air with noise levels as low as 27dB, helping you sleep deeply with a restful and soothing indoor environment; The LED Display can be turned off so it...
MAXIMUM PURIFICATION: Recommended for large rooms; Completely filters air in large living rooms, family rooms & playrooms about every 30 minutes (2 times an hour at 720 square feet) on high
It has these basic filters:
Pre-filter. It is effective at neutralizing large airborne objects like dust.
True HEPA filter. It can reduce 99.97% down to 0.3 microns of all contaminant particles.
Activated Carbon Filter. This filter must have to remove odors and smoke.
Pros
Thin, well-built body.
Slightly quiet.
Much improved performance.
Thick carbon filter
Cons
The motor becomes hot after months of use.
4. Honeywell AirGenius 5 Air Cleaner/ Odor Reducer 
Air Genius 5 purifies the air through a 3-stage cleaning process:
Pre-filter. It's washable and odor-reducing.
Permanent washable main filter stage.
Electronic Ionizer stage.
Both pre-and primary filters (called an "if" type of Honeywell) can be washed and reused.
Its room size rating is 250 sq. ft with a five-speed fan. It does not produce noise during sleep mode—electronic touch controls and dual-speed blower fans.
Honeywell has a carrying handle on the top rear portion of the body, which is a convenient feature due to its large size and somewhat heavy weight.
It provides an estimated life span for the permanent ifD filter of about five years with four washes and reuses per year. The pre-filters general purpose is to eliminate pet hair per hour and dust.
The filter should be replaced every three months. Ionizers use an electric charge to cause airborne particles to be pulled from the outgoing flow.
Sale
Honeywell HFD320 Air Genius 5 Air Purifier with Permanent Washable Filter Large Rooms (250 sq. ft.) Black
TOWER AIR PURIFIER – The Honeywell HFD320 AirGenius 5 Air Purifier helps provide cleaner, fresher air. Recommended for large rooms (250 sq. ft.), it helps capture up to 99.9% of microscopic airborne...
HELPS REDUCE ALLERGENS – This quiet air purifier has 5 levels of cleaning power and patented ifD technology to help capture the following microscopic airborne particles: dust, pollen, pet dander,...
EFFECTIVE AIR CLEANING AND CIRCULATION – This Honeywell Air Purifier for home filters and circulates air up to 4.8 times an hour in a large 250 sq. ft. room**. Plus, it features quiet operation,...
WASHABLE FILTERS – Home air purifier includes a permanent, washable filter and a permanent pre-filter for easy maintenance***. You'll never need to purchase an additional filter. Just remove and...
ENERGY EFFICIENT – This Honeywell HEPA Air Purifier earned the ENERGY STAR label by meeting strict energy efficient guidelines set by the U.S. EPA.
Pros
Super quiet.
Easy to clean.
Shallow running of electricity.
Washable filters that last forever.
Cons
The light at the top is too bright. You must cover them at night.
5. Winix WAC9500 Ultimate Pet True HEPA Air Cleaner 
Winix is the best air purifier for pet odors, especially if you like pets. You will encounter pet problems from time to time,e such as pet hair, pet dander, and fur. Winix WAC9500 is the best air purifier to remove odor and pet-related air contaminations.
It has the following features:
Pre-filter. It helps capture large objects of contaminants like pet hair.
True HEPA filter. It captures 99.97% down to 0.3 microns of allergens, virus particles, and fungi particles.
CleanCel Anti Bacterial Treatment. It provides a layer of protection to your quality though it is not a physical filter.
Activated Carbon filter. It reduces common household chemicals and eliminates odors and smells.
Winix PlasmaWave Technology. The last line of defense reduces the pollutants and can be switched on or off.
It features the unique technology of Winix plasma wave, which produces both positive and negative ions. Plasmawave technology eliminates most toxic contaminants when combined with a True HEPA filter.
It is also considered the safest technology to combat the smallest bacteria since it's unlike the ionizer that irritates asthma and respiratory issues. Plasmawave technology is considered to be this brand's most decisive competitive edge.
Since Winix WAC9500 is a high-end machine, it must have an intelligent sensor to adjust your air cleaner settings to meet your environment's needs automatically.
Winix WAC9500 covers 284 sq. ft, which is the AHAM-verified room space and is also quiet.
Pros
Unique, powerful, and safe plasma wave technology.
Very quiet.
Innovative features such as an intelligent sensor.
Good performance rating.
Cons
Only have one year warranty.
Electromagnetic interference from certain electronics may cause product malfunction.
Some still claim that plasma waves irritate asthma.
6. Alen Customizable Air Purifier with HEPA Pure filter 
It is among the best air purifier for odor control, suitable for big rooms (as high as 1100 sq. ft ). And provides clean air by eliminating 99.7% of airborne particles that are dangerous to your well-being.
The Alen BreatheSmart is a customizable and lightweight air purifier for odor removal that highlights both intelligent technology and a simple yet stylish design.
The unit's sound is a low-frequency sound that is somewhat pleasant. It is also supplied with push button controls that are simple to use, a magnetized front panel, and an energetic air quality sensor.
It is ideal for open areas and giant rooms up to 1100 sq. ft. This air purifier silently and effectively removes allergens, odors, and dust, cleaning your air in less than two hours.
It uses intelligent sensor innovation to ensure your home is fresh and clean in auto mode. The sensor monitors the air conditions of a room in real time and will adapt itself accordingly.
Alen BreatheSmart Customizable Air Purifier with HEPA-Pure Filter for Allergies and Dust (White, 1-Pack) & Alen...
Perfect for living rooms, open concept rooms, and other large rooms up to 1100 square feet, the BreatheSmart with HEPA-Pure filter quietly and efficiently removes allergens and dust, purifying your...
BreatheSmart is fully customizable, offering four different filter types to accommodate changing air purification needs, and 14 panel color options to match your home décor.
Protects the filter against growth of harmful bacteria and microbes
Creates an allergy and asthma friendly environment by removing dust, pet dander, mold spores and pollen from the air
Alen BreatheSmart filtration process
Alen BreatheSmart uses a 3 stage air filtration process to purify the polluted air inside your home.
Pre-filter. This is where dirty air first passes through a washable black foam layer. The pre-filter can be vacuumed or washed frequently to ensure proper filtration.
HEPA Pure filter. It captures 99.9% of all airborne pollutants. The filter captures pollen and other particles more efficiently since it is made of electrostatically charged components.
Ozone-safe ionization phase. It is triggered by pressing the ion button on the top panel. Alen BreatheSmart Customizable Air Purifier has an advanced ionization system that does not generate dangerous ozone.
Finally, the pollutant-free purified air is sent out through the top. It is a bit larger than other models. It is the best air cleaner for odors since it delivers clean air using less power than other air purifiers.
Pros
Worth your money.
Has an excellent design.
It works exactly as described.
A stylish light indicator at the top shows the level of cleanliness.
Cons
Loud at times but not disturbing.
Takes a bit of space.
7. Rowenta PU6020 Intense Pure Air Purifier with pollution sensor for odor elimination
This air cleaner is ideal for someone who needs relief from common allergens and would like to reduce household odors and formaldehyde levels in their home.
It features four stages of filtration that is:
Pre-filter. It is a washable filter for large particles, for example, dust, common odors, smoke, and VOCs. Click here to see the latest price on Amazon. 
HEPA filter. It filters microscopic particles.
Granulated carbon filter, which reduces odor and gases.
A patented Nanocaptur filter that destroys formaldehyde – a dangerous carcinogen. It is commonly found in homes due to cleaning products, paints, pressed wood, candles, and building materials.
LCD controls with an intelligent pollution sensor and visual display keep you informed and in control of your environment. It cleans up to 861 sq. ft and comes with a two-year warranty.
It has intelligent sensor technology, ensuring that this air purifier will adjust to address the ongoing air quality changes in your home. Rowenta's air quality display provides visual feedback on your current air quality.
It operates quietly, and its night mode ensures air quality remains enough for a good night's sleep. It is attractive yet dimmable blue ambient mood lighting around the air outlet.
Pros
Operations are quiet, making them suitable for offices and bedrooms.
The pre-filter never needs a replacement since it is washable.
Rowenta's nanocapsule filter targets formaldehyde, a known carcinogen.
Ensures low operating costs as a result of low energy consumption.
There's real-time air quality feedback due to air quality supply.
Auto mode provides ongoing, reactive air quality.
Cons
Replacing filters can be costly.
8. Hamilton Beach Air Purifier for an odor eliminator
Hamilton Beach has been a trustworthy brand for home accessories since 1940. It was invented to make it last as long as permanently.
In this air purifier, you will have the following:
Permanent HEPA-type filter. It works like other high-end machines' pre-filter and can capture most large objects like large pollen, dust, and pet hair.
Two zeolite Activated Carbon filters. This targets cooking smell and pet odors such as urine which acts as a good air purifier to remove urine odor. The HEPA filter is permanent since you can vacuum or wash it.
Hamilton Beach TrueAir Air Purifier with Reusable 99% HEPA Grade Filter to 3 Microns, Captures 99% of Allergens, Dust,...
High Performance Hepa Grade Filter: Captures 99% of Pet Dander, Dust, Pollen.
Easy to Clean: Allergen Reducing Air Purifier Has a Permanent Hepa-Grade Filter That Easily Vacuums Clean
Compact, Stylish Design: Allergen Reducing Air Purifier Is Perfect in the Office or in Rooms up to 160 Sq. Ft
Versatile Air Care That Fits Anywhere: Position the Unit Vertically or Horizontally to Best Fit in Your Bedroom, Den, Nursery, Hallway or Living Room at Home or at the Office
Quiet and Powerful: Use Whisper Clean for Extra Quiet Operation at Night, the Medium Setting or the Quick Clean Setting for More Powerful Air Cleaning
Hamilton Beach does not have any intelligent features. It emits a burning smell after being used for a long time due to cheap material.
You need to clean the permanent HEPA filter regularly to avoid this burning smell, which will help reduce the noise of this air purifier. It is the best air purifier for cooking odors. This air purifier for odors is lightweight, small, and designed for personal use. It's effective for 100sq ft 100m.
Pros
Cheap carbon filter replacement cost.
Small in size.
No annual HEPA filter replacement cost.
Low budget range.
Cons
It only covers an area of 100 sq. ft.
Has a burning smell after a long time.
Lacks intelligent features.
No true HEPA filter.
Things to look out for when buying the best air purifier for odor elimination
This is the most critical rating for Clean Air Delivery Rate. This rating is calculated by the Association of Home Appliance Manufacturers (AHAM), which stamps its certification only on products that meet specific criteria. These devices have a scientifically backed set of numbers that tells you the exact effectiveness of an air purifying product.
It stands for Air Changes Per Hour Rating. It's important because it tells you how often the device exchanges air each hour. The higher the number, the better the product operates.
When buying an air purifier for odor removal, you need to determine the maximum space coverage it can purify. Each cleaner is designed to purify a space up to specific square footage.
Energy Star Certification
Please ensure that a product includes the Energy Star Certification when comparing air purifiers. This will assure you that the device will neither waste your money on high electric bills nor use high energy.
Air Purifier for Odor Elimination – Our conclusion
I hope this list of the best air purifier for odor elimination has helped you make good decisions while buying the products. I highly recommend you check your air purifiers' size and room capability.
Please ensure your air purifier will meet your needs to avoid a higher cost than usual.
What Type of Odor Are You Looking to Remove?
I would suggest you know your problem first to know which is the best odor-eliminator air purifier to fix.
Prevention of dust. It would help if you used an air purifier with a HEPA filter because it will help prevent dust as much as possible.
They trap pet hair and dander. All HEPA air purifiers, especially True HEPA ones, can easily capture pet hair and dander. This one will be found in the best air purifier for pets.
Removing odors and smoke. You must use an Activated Carbon filter to help eliminate smells and smoke. Air purifiers for odor removal can be used as a reference.
Helping with your allergies. Airborne allergens cause many unpleasant symptoms, such as coughing, sneezing, eye irritation, and many more. True HEPA filter air purifiers are the best ones for you. You can refer to the best air purifiers for allergies.
Reducing asthma. You should aim at the True HEPA filter, and if you have a problem with the ion, you should stop using the ionizer immediately.