Are you in need of the best air purifier with a washable filter? Would you love to find an air cleaner with a permanent filter that never needs to be replaced?
Washable filters are convenient because they can be removed and gently washed with soap and water. If you do so periodically,  you will keep the filter clean and efficient. This enables the air purifier to continue to work at top performance year after year and saves you the hassle of buying filters from time to time.
Before I dissect this topic, it's essential to know the main difference between an air purifier with a washable filter and a non-washable filter.
The main difference between the two air purifiers is that one has a filter(s) that can be removed, washed, and returned. On the other hand, an air purifier without a filter or a filter that is non-washable needs to be replaced after every specified time.
In another section below, you'll learn more about the advantages and disadvantages of investing in an air purifier with no filter replacement. Before that comes, I was hoping you could take your time to look at some of the top-rated air purifiers in the market. I'm confident that with the information I share, you will find the best affordable air purifier with a washable filter.
Best Air Purifier With Washable Filters – Reviews
Let's start our dissection by reviewing purifiers with trending washable filters. This list will help you grab the ideal air purifier you have been waiting for.
1. Winix Plasmawave 5500-2 Air Purifier
Winix 5500-2 is the highest quality, best-performing cleaner with innovative features. If you love hassle-free operation, convenience, and excellent odor control, grab one for your home.
This large air purifier with a washable filter is designed to offer clean and fresh air to users. Why should you opt for Winix 5500-2? With a combination of technology and efficacy, it has a simple and stylish design inclusive of all of the essential features that customer requires. So, what more does this air cleaner have to offer?
No products found.
Features
True-HEPA filter captures 99.97% of contaminated air, allergens from mold spores to dust, and particles down to 0.3 microns.
It is CADR rated and designed for medium to large spaces up to 360 sq. ft.
The PlasmaWave Technology, an in-built filter – breaks apart impurities at a molecular level without emitting dangerous ozone.
Smart Sensor gauge, which monitors the air in your home, adjusts and filters the settings with a sleep mode that silently operates the unit at night.
The hand-washable AOC Carbon Filter is made from activated carbon, with the added benefit of removing nasty household odors from the air.
Pros
Safe to use because it is non-pollutant. No odor is emitted when it's switched on. Therefore can't irritate asthma or the respiratory system.
The switch modes and fan speed are easy to turn on manually or by remote control. All you have to do is to set the fan speed button to run through the speeds.
Easy to install – It involves removing the front cover, the HEPA filters, and AOC from the sealed bags and then putting them in place.
Relatively light, compact, and easy to move from one room to the other.
It has a sleek exterior design and blends in with other electronics without visually dominating the space.
Cons
Electromagnetic interference from certain electronics may cause product malfunction.
2. Airdog Air Purifier X5 Ionic Air Purifier 
Is the air in and around your home polluted? Airdog X5 air purifier helps stop inhaling indoor air pollutants and breathe cleaner air. It saves time and money and is energy-efficient and waste-free. It has an ionic wind filtration technology that makes it virtually silent.
No products found.
Features
Ionic wind penetration technology makes it virtually silent.
Reusable Filter for Allergen, Dust, Pet, odor, smoke, and molds (14.6nm Level)
Eco-friendly- Washable/ No filter replacement.
Intelligent design: 6 Operating modes/ Child lock/ V-0 Fire Proof Material.
Low noise- Build-In sensor.
Intelligent and easy to operate- Initiates with a button and auto-adjusts to different modes based on your room's air quality level.
Measures 25.59 (H) x 12.44 (L) x 12.05 (W).
Weighs 23.59 lbs.
Max Input Power: 60W.
Uses the best class DC brushless motor. Its carefully designed aerodynamic flow path enables 360 degrees of circulation and 200 cubic feet of clean air per minute.
Night mode for light sleepers. You can hardly hear it running at night mode.
It keeps your air clean but without display lights and fan noise.
Pros
Puts your health first by killing 99.9% of all household germs.
Cost-effective.
Powerful and quiet.
No filters to replace regularly.
You can wash the collector plate in the dishwasher.
Cons
The power cord is short.
More extensive than many air purifiers.
3. Honeywell HFD-120-Q QuietClean Oscillating Air Purifier with Permanent Washable Filters
Honeywell HFD-120-Q has an outstanding performance of circulating air five times while capturing airborne particles from the air through washable filters.
No products found.
Features
Honeywell HFD – 120-Q comes with permanent filters that are Energy Star Certified.
It has an electronic filter, which checks and indicates when the filters need to be washed.
This product has an on/off Oscillation control, which allows easy operation.
Honeywell HFD – 120-Q has permanent energy-efficient filters that capture up to 99.9% of airborne particles.
Particle reduction ability depends on the pollutants in the room/surrounding area and the amount of air processed.
It can take up to 12 hours before it automatically shuts off.
Visibility of a touch screen that quickly helps you to operate.
Pros
Honeywell HFD – 120-Q is energy efficient and thus capable of servicing small to large rooms.
It's quiet and easy to use.
Honeywell HFD – 120-Q quietly entraps particles without disrupting the flow of air around them.
The product's portability features enable you to move it from one room to another depending on where you want air cleaned.
Honeywell HFD – 120-Q washable feature helps you save money. Unlike other cleaners, you wash the filters whenever you have to replace the appliance.
Cons
Typically, it emits an unpleasant smell when it heats.
4. Honeywell AirGenius 5 Air Cleaner/Odor Reducer
Honeywell AirGenius 5 Air Cleaner/Odor Reducer 250 sq ft is one of the most advanced air purifiers ever designed. It captures up to 99.9% of microscopic particles, even as small as 0.3 microns.
No products found.
Features
It comes with two optional pre-filters; washable foam and an odor-reducing pre-filter specially designed to help capture particles before entering the iFD filter.
With its quiet operation, Honeywell AirGenius 5 has five air levels of operation, sleep setting (which is nearly silent in operation), seasonal allergen, germ reduction, and general and maximum cleaning settings, depending on your cleaning needs, which make the setting process easier.
Honeywell AirGenius 5 Air Purifier has a filter indicator that alerts you when it needs cleaning.
Pros
Honeywell AirGenius has an AHAM certification that confirms it can be used in large rooms of up to 250 square feet.
Honeywell AirGenius 5 is a CADR (Clean Air Delivery Rate) certified product with the following values:
Tobacco smoking.
Dust.
Pollen.
It's energy-star-rated.
The amount of energy Honeywell AirGenius 5 uses is the same as that of a standard lighting bulb.
Sleek in design.
It comes with a 5-year warranty.
It's made of a Permanent washable iFD filter.
Cons
The pre-filter needs replacement at least every month.
It emits a plastic-like odor when heated.
The e-motor that drives the fans in the Honeywell AirGenius 5 is saved on the bearings on top and bottom, which sometimes makes it lose balance, thus causing the noise.
5. Blue Pure 411 Air Purifier 3 Stage with Two Washable Pre-Filters
Blue Pure 411 air purifier with a washable HEPA filter is quiet. You will not have a problem using it in your bedroom while asleep.
Features
The machine's washable pre-filter is bestowed to capture large debris, air particles, smoke, dust, and allergens and even wholly remove wildfire smoke odor.
Activated carbon is responsible for filtering off all cooking smells from your kitchen.
Ideal for small and medium rooms (100 sq ft to 175 sq ft).
Useful in offices and nurseries.
Has a 3-part air filtration system.
Energy star rated thus does not consume a lot of electricity.
Pros
Easy to operate.
Low noise, thus ideal for use in the bedroom.
Easy-to-read and understand user manual.
Cons
The cleaner has three bright LED lights that do not automatically switch off. This is not good in the bedroom during the night.
6. Blueair Blue Pure 211+ Air Purifier with Washable Pre-Filters
You will love this room air cleaner with two washable filters that are part of the 3-stage filtration system. Besides, this air cleaner is energy-star rated. This means you do not have to worry about your electricity bills.
No products found.
Features
Blue Pure 211+ is designed to work best in medium to large-sized rooms between 400 sq. ft. and 600 sq. ft. [AHAM rated at 540 sq. ft.]
Quiet operation is enabled by advanced filters that allow for a higher airflow at a lower noise level. Sound level: 31 – 56 dB(A).
The machine's washable filters come in different elegant colors. This will be an advantage if you love to match the color of items in your house to complement interior décor.
It has an activated carbon filter that removes common odors from gases, pets, cooking, and wildfire smoke.
Pros
It is light (weighing only 3.4 lbs).
Kills 99.9% of germs, allergens, and other harmful bacteria.
Low noise level, thus ideal for working from the bedroom.
Easy to clean.
Hassle-free usage.
Very easy to change the filters.
Cons
No HEPA filters.
Blue Pure 211+ has no timer.
No air sensor.
7. Oreck AIRPCB Professional Permanent Filter 
Oreck AIRPCB Professional Permanent Filter With Optional Ionizer and quiet operation is a top-tier luxury product from the world's top designers to your front door! I haven't seen many air purifiers with fragrance and ionizer features. It would be best to consider this air purifier with a permanent filter for other reasons.
Features
Build with three speeds.
It has an optional ionizer that helps collect tiny airborne particles together for easy filtration.
Comes with a fragrance dispenser.
Lifetime filter with an alarm to inform you when the filter is faulty.
They are equipped with energy-efficient bulbs.
Quiet operation.
Pros
This product works efficiently – no hard labor is needed when operating it.
Easy to operate.
Quiet performance for those who prefer to use it in their bedroom.
Saves you a lot of electricity thanks to energy-efficient bulbs and a sizeable power motor.
Follows orders to a tee when cleaning the air in your home. For example, it will capture and destroy germs at the filtration stage.
The ionizer provides extra freshness to your home by allowing smaller airborne particles to assemble to be trapped easily by the filter.
It is easy to maintain – has a washable, lifetime filter that continuously alerts you to clean them. This prevents it from damages that may be costly to repair.
The three-speed tabletop design works efficiently for small offices and bedrooms.
It perfectly combines the balance of high performance and quiet operation.
Cons
It may sometimes underperform, not providing all the purifying effects as claimed by the manufacturers.
The purifier filter needs to be changed periodically for it to function optimally.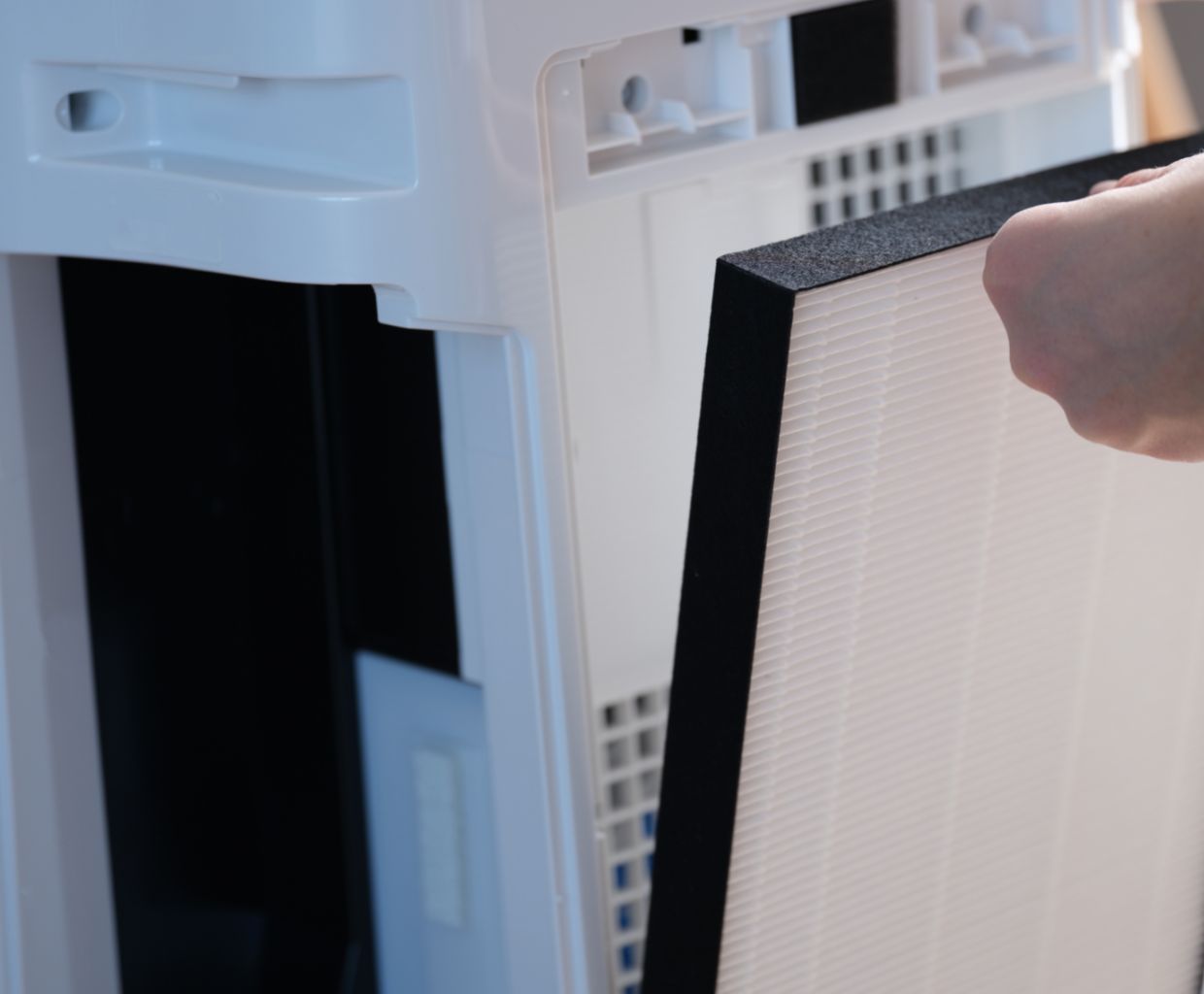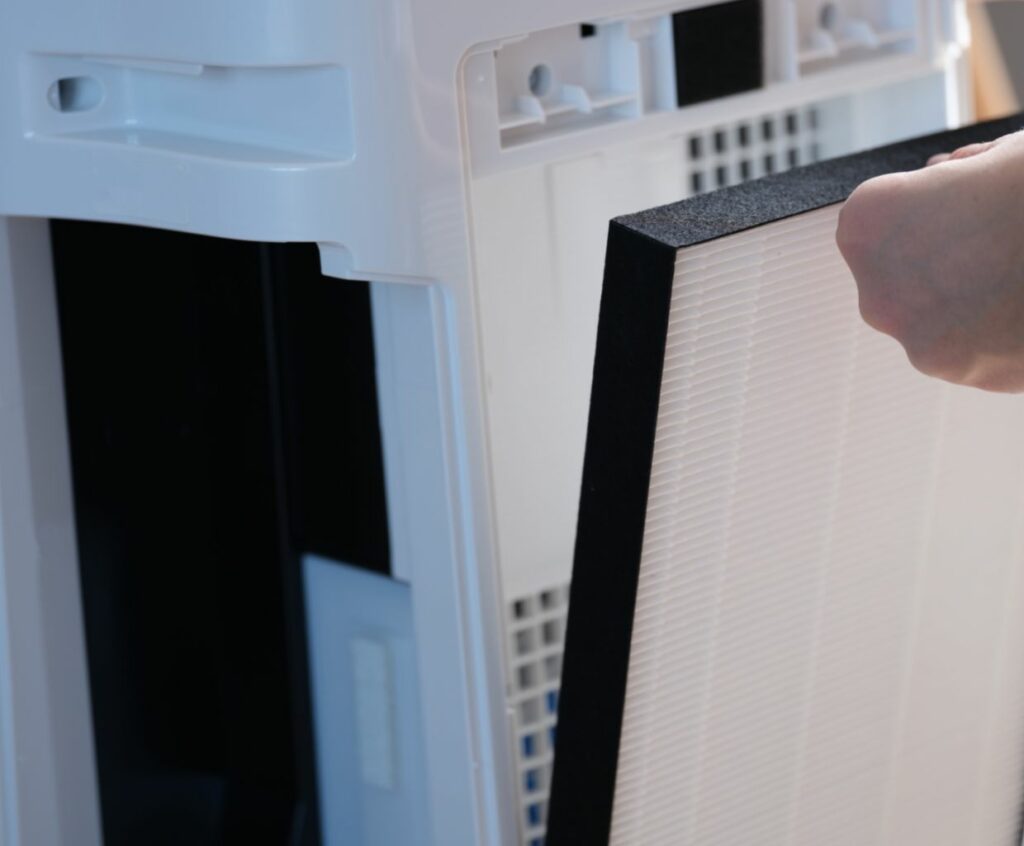 Are Washable HEPA Filters As Effective?
While it is true that an air purifier performs the same job, whether it comes with replaceable filters or permanent filters, it is essential to know that some work better.
A washable air purifier will save you time, money, and the hassle of finding an expert and the correct spare part to replace.
It is also true that most washable air filters are made of plastic. But did you also know that some washable filters last more than ten years? Yes, do not be shocked. Quality washable filters last longer.
Washable filters are very effective when you know how to use them. For instance, if you want your washable filter last, ensure the cleaner is in use regularly. This helps metallic or hard plastic parts of the machine avoid unnecessary dampness. Remember that dampness leads to rust and corrosion.
Besides, enough time is needed between cleaning and replacing a washable filter. Because of a tight schedule, some people quickly wash the filter and replace it before it is dry. This lowers the washable filter's lifespan.
So, washable HEPA filters are as effective as other quality non-washable filters. They are way beyond most non-washable filters because you can clean them anytime you feel the machine has done much work. With other types, you must wait until the alarm alerts you of a problem.
Washable Vs. Permanent Filters: Pros and Cons
Asthma medication can be expensive if you don't have health insurance coverage and the washable filter comes in handy because you'll be able to maintain them regularly. Therefore, investing in a washable air purifier is a wise and ingenious way to save money.
Air Purifier With Washable Filters – About Washable filters
As the name points out, a washable filter is a filter whereby you can use water and soap to clean and remove the pollutants that the filter has gathered.
The cleaning process takes a few minutes and involves soaking, whisking, and rinsing to get the result that will allow you to reuse the filter again.
Filters are a significant part of your cleaner. The washable filters will be cleaned after use to remove the dust and prolong their life. They need to be checked regularly, and the replacement of the filters is allowed.
Air purifiers with washable filters are easy to maintain as you can clean them yourself, dry them, and reuse them after cleaning. These are said to be the best because after cleaning them, the air quality in the room increases.
Washable And Permanent Filters
So, what are the pros and cons of using air purifiers with washable and permanent filters?
Pros
They are environmentally friendly. If you clean the filters regularly and thoroughly, these filters can last more than five years. The demand for production is lowered; hence the earth's resources are saved.
Reusable filters are in a position to attract all kinds of dirt, pollen, dander, or spores.
You save money because you don't need to buy new filters.
Filter maintenance is fast so you won't waste much time on maintenance.
You have the benefit of cleaning the filters anytime you feel like it. Out of this, you increase efficiency.
Electrostatic filters can save you a lot of time looking for difficult-to-find filter sizes.
Washable air filters give you better convenience. If you are not scared of dust, you'll need to clean it using water and some competent filter cleaner, rinse and let it dry.
Cons
Some reusable filters are ineffective at removing airborne particles larger than 2 microns. Seizing bacteria, spores, viruses, and allergens with these filters can be challenging.
Using reusable filters to clean larger rooms makes the filters dirty quickly, which means regular cleaning will be required.
Regular cleaning may damage the filters, making them work slower than when it was new.
Reusable filters can attract mold if you don't give them time to dry off after cleaning.
Key Factors To Consider Before Buying Washable/Permanent Filters
Before coming up with a concrete decision as to why you need washable and permanent filters, there are factors to consider.
1. Use and execution level- As most air purifiers cannot cover air pollutants below 2 microns, you need to ensure that it can purify and at what percentage it can reach.
2. Coverage area – One of the most important factors to consider when buying an air purifier is the coverage area.
You need to know your space in a square foot and compare it with the manufacturer's recommended coverage area. Air purifiers structured with permanent filter covers only small and medium-sized spaces up to 200 square feet.
3. Energy consumption – As air purifiers are meant to work around the clock, you need to check on the one with the energy star certification to cut costs.
4. Easy to clean and maintain – Washable filters are easy to clean and maintain because you need water and soap to clean them. On permanent filters, you'll need to vacuum it and reuse it after that. To be on the safer side, it is recommended that you check the user manual to know what it entails.
5. Cost – There are many washable and permanent filters in the market today. To be on the safer side, you are required to look out for the features and performance level of the product.
6. Noise level – When air purifiers are in higher settings, they can make a lot of noise. To curb the unnecessary noise, you need to opt for one with 30-40 decibels on its highest setting.
Air Purifier With Washable Filters – Conclusions
Although many people tend to discredit air purifiers, I believe those who feel so have not used the best air purifier with a washable filter. They won't regret it. You do not need to be like them.
Please do whatever you can to save your family's resources, keep their health, and give them a cleaner environment. You will be happy upon finding out that you are using the best quality air purifier with a washable filter.