Best Air Purifier For Mold –Top Rated For Mold Control
Unless you are superhuman, it is tough to tell that there is mold in your house. Because mold produces gasses called microbial volatile organic compounds (MVOC), many gasses are odorless, but some have a musty-like odor – the smell typically associated with mold. Because of its odorless nature, it is hard to tell that there is mold in the corner of the house. Until you use the best air purifier for mold, chances are you will live with mold and mildew under your kitchen sink for months.
You need to understand that if mold spores accumulate in your house for a long time, they will affect your family members' breathing systems. This may result in various respiratory complications that could be avoided if you located the mold in your house.
You can get the best air purifier for mold for under $100. It is also important to note that if your family suffers several breathing problems such as sneezes, soreness of throat, or even developing some allergies, chances are the problem is in your house. Please don't panic—first things first: types of mold that can be found in your home.
What Types Of Mold Are In Your Home?
In the world over, there might be over 400,000 different types of mold. With this staggering number, nobody can confidently say they do not have mold in the house. Nonetheless, I'm not in any way insinuating that there is.
The good part of this story is that out of the over 400k types on the planet, only about 1,000 types of mold can infest your home. These are our focus.
Scientists have categorized these 1k types of molds into three main categories. So, knowing these three broad categories is essential before thinking of an air purifier that removes mold.
Different categories of Molds
1. Pathogenic Mold
They are defined as extremely dangerous and are responsible for causing severe infections in human beings when smelling their odor. However, scientists say that you do not have to worry if your immune system is okay. Pathogenic mold is likely to attack people with weak immune systems.
Scientists who have studied this mold category say it can cause severe lung complications.
2. Allergenic Mold
These types of mold are softer. They are not as dangerous as Pathogenic. However, they are also likely to cause allergies. If you are asthmatic or anyone in the house has asthma, there is a likelihood that these types of mold are heaped somewhere. Allergenic mold can cause various respiration problems.
Again, if you have kids in the house, you should be careful about the sanity of where they live. If these types of mold are in their rooms, they can cause severe allergies in your children.
3. Toxic Mold
This is, so far, the most fearful category. Have you ever heard of the infamous Black Mold? This last category of mold can affect virtually every person, including those with robust immune systems.
The worst part is that they can weaken one's immune system, leaving the person vulnerable to cancer. Once you inhale or ingest these types of mold, they form mycotoxins in your body, which is the start of a weakened immune system.
Touching such types of the mold itself will lead to serious health problems.
More types of mold
After highlighting the broader mold categories, you should know that in our homes, there are chances that one or more of these five types of mold live with us:
1. Cladosporium
This type of mold settles on wood, textiles, and on several other surfaces that are porous. The mold is responsible for causing asthma as well as hay fever.
2. Penicillium
It likes to grow on carpets, fiberglass insulations, and wallpapers. It causes allergies and asthma. There are claims that this type of mold produces mycotoxins.
3. Aspergillus
This widespread mold type is found in highly humid conditions. It prefers to settle on any dust that is in the house. Aspergillus can cause different types of lung infections because it produces mycotoxins.
4. Stachybotrys
Also known as Black Mold, this type causes serious health complications thanks to its ability to produce mycotoxins. If you inhale this mold, you will likely suffer from lung bleeding.
It only settles on paper and wood. You cannot find Black Mold on concrete or tiles.
The good thing is that it is rare to find Black Mold in many homes.
5. Alernaria
This is the only type of mold that can settle on your body. Alernaria can settle in your mouth, nose, or upper respiratory tract. When it settles on a person, it causes various allergic reactions.
How Mold Exposure Can Affect Your Health
As I already mentioned, if you expose yourself or your family to mold, mold spores, or even dampness, which harbors mold, you risk contracting various health problems.
While there is no particular way mold affects one's health, many exposed to mold have suffered several allergic and respiratory complications.
Some of the notable health effects of mold exposure include:
Nasal stuffiness.
Eye irritation.
Throat irritation.
Skin irritation.
Severe health complications for those who are allergic to mold.
Chronic lung problems, especially for those with compromised immunity. An excellent example of a person who falls into this trap is someone with obstructive lung disease.
A 2004 finding by the Institute of Medicine (IOM) showed that there was a reason to prove beyond doubt that people exposed to indoor contact with mold inhibited symptoms such as coughs, wheezes, and other upper respiratory signs.
Five years later, the World Health Organization (WHO) added that people who live in an environment full of dampness and mold or whose indoor air quality is questionable always suffer from breathing-related problems.
In all these instances, children, people who are allergic to mold, and those with compromised immunity always find themselves vulnerable to mold exposure.
Top-Rated Purifiers For Mold Control
This list contains the eight best air purifiers for mold to choose from. In this list of eight, I have used three. Thus, I have a personal experience with them. I had to do a lot of research about the remaining air purifier for mold. As you start to look at this list, see which of them you can give a try.
If you have used some in my list, why not try those you haven't used? Alternatively, you can find a brand new best air purifier for mold in the basement from this list.
1. Honeywell True HEPA HPA300 Allergen Remover
Honeywell True HEPA B00BWYO53G Allergen HPA300 air purifier for mold appears on the top of my list with reasons. It is one of the ideal air purifiers for mold with a filter that you can easily replace.
You will find that on many occasions, one of the challenges you are likely to face with home appliances is that it is challenging to do DIYs. Most of them need you to hire a specialist. But it'll not be the case with Honeywell True HEPA B00BWYO53G.
Honeywell Professional Series True HEPA Air Purifier, Airborne Allergen Reducer for Large Rooms (325 sq ft), Black -...
HEPA AIR PURIFIER: Recommended for large rooms (325 square feet), this air purifier helps capture up to 99.97% of airborne particles as small as 0.1 micron, like pollen, dust, smoke, pet dander, mold...
AIR QUALITY MONITOR: This air purifier features an indoor air quality monitor, withy particle & VOC sensors, that constantly monitors room air & provides real time feedback via an LED air quality...
HONEYWELL AIR PURIFIERS: Our air purifiers help remove allergens, dust & odors. If you have allergies, pets or stale indoor air, air purifiers help remove airborne particles & improve air quality.
FILTER & CIRCULATE: Honeywell Air Purifiers filter & circulate air in the stated room size up to 5 times an hour. Breathe easy knowing the air in your home is fresher & cleaner with fewer allergens.
HONEYWELL QUALITY: Improve your air quality & neutralize odors for a clean & healthy breathing experience year round with Honeywell replacement filters for air cleaners & purifiers.
Once you purchase this air purifier and go through the user's manual, you are good. If you use Honeywell True HEPA B00BWYO53G in the recommended size of the room (465 square feet), you will clean the air in that room up to 5 times faster than you could use a different air purifier.
Honeywell True HEPA B00BWYO53G comes with an elaborate and easy-to-use control panel. To achieve optimum functionality, you must ensure the control panel's light remains dimmer.
Pros
Cleans air up to 5 times faster in an hour.
Ideal for large rooms (625 square feet).
Long-lasting.
Cons
It is heavy (21 pounds).
Extra shipping fees may be needed on some parts.
2. PureZone 3-in-1 Air Purifier with True HEPA
This air purifier for mold is UV-C sanitizer enabled. It simply means that it can clean the air in your house and kill mold spores.
It is the best air purifier for mold under $100 that has multiple functionalities, such as an auto timer, three different air cleaning speeds, and HEPA filtration, among others.
PureZone 3-in-1 Air Purifier is a quiet air purifier for mold because Pure Enrichment built it with a noise level of only 30 dB.
The air purifier can silently work from your bedroom without interrupting your sleep.
Pros
Comes with an industry warranty of 5 years.
It is quiet.
Doesn't consume a lot of power (input 60W).
With the UV-C Sanitizer function, you will clean the air and, at the same time, kill disease-causing mold spores.
The automatic timer shuts off when the set time reaches, thus saving energy.
It is light, at 8.5 lbs.
Cons
Not practical for large rooms.
3. SilverOnyx True HEPA UV Light, Carbon Filter, Ionizer Air Purifier
SilverOnyx True HEPA UV Light best air purifier for mold and mildew, is a 5-speed home air-cleaning appliance. With this ability, combined with the carbon and HEPA filtrations, SilverOnyx True HEPA UV Light is one of the best air purifiers for mold.
This air filter comes with UV light and an ion sanitizer. These two components work hand in hand to clean the air and kill stubborn mold spores, germs, viruses, and harmful bacteria.
No products found.
There's no small amount of smoke, dust, and pet dander that this air purifier does not clean. SilverOnyx True HEPA UV Light air purifier captures up to 99.9% allergen and dust as small as 0.3 microns. It is also equipped with an automatic sensor. This will work on its own as long as the SilverOnyx True HEPA UV Light air purifier detects unclean air within its surrounding.
This cleaner also comes with a pre-filter, a part of the HEPA and carbon filter that captures large particles, leaving the 0.3-micron particles to be filtered by the other four stages.
Pros
It is light, weighing 5.3 lbs.
Ideal for all rooms (small and as big as 500 square feet).
Works better in medical facilities for patients with breathing complications.
Cons
4. GermGuardian AC5350B Large Room 3-in-1 Air Purifier With True HEPA
GermGuardian AC5350B 3-in-1 is the best air purifier for mold in the basement for large rooms. You will get a single pack or two packs in many online stores.
Thanks to its charcoal filter, GermGuardian AC5350B 3-in-1 reduces house odors significantly. Some odors you will not smell in your house emanate from cooking, smoke, unwashed utensils, and dust.
No products found.
GermGuardian AC5350B 3-in-1 is fitted with an option for UV-C light. This function works with Titanium Dioxide to prevent, reduce, or even remove airborne bacteria, mold spores, germs, and viruses.
It has a CADR meter, which guides you through the filtration process. With a higher CADR, you are sure the air purifier cleans the air around it. For instance, CADR pollen is 127; smoke is 108, and dust at 114. You will only need to replace a filter once in 8 months.
Pros
five years warranty.
Extra performance thanks to 5-speed filtration.
Can contain wildfire smoke.
Cons
Only ideal for small-sized rooms (below 200 sq ft).
The 5-year warranty is limited (the manufacturer is strict about it).
5. Coway AP-1512HH Mighty Air Purifier with Eco Mode and True HEPA Filter
This black air purifier that removes mold is mighty because it has certain features that are not in most of its competitors. For instance, Coway AP-1512HH has a filter change indicator and an air quality indicator. While you may argue that many best air purifiers for mold have filter change indicators, how many of them do you know come with air quality indicators?
Coway Airmega AP-1512HH(W) True HEPA Purifier with Air Quality Monitoring, Auto, Timer, Filter Indicator, and Eco Mode,...
Coway Mighty (AP-1512HH) is designed to accommodate room sizes up to 361 sq. ft (CADR: Dust 246 / Pollen 240 / Smoke 233 cb. ft. ).
4 Stage Filtration System (Pre-filter, Deodorization filter, True HEPA filter, Vital Ion) captures and reduces up to 99. 97% of particles 0. 3 microns in the air, including pollen, pollutants and...
Coway Mighty pollution sensor communicates indoor air quality in real-time. The brightly colored LED lets you know how clean or dirty your indoor air is every minute of the day. And it features a...
Fan speeds available in 1, 2, 3 stages by manually setting up. While auto mode automatically optimizes the speed setting 1 through 3 based on the level of indoor air quality. When no pollution is...
Timer feature allows the machine to run 1/4/8 hours before automatically powering off.
It is also a quiet air purifier for mold and the best air purifier in the basement, with a noise level of between 24.4 and 53.8 dB. The 3-fan speed Coway AP-1512HH's recommended room size is up to 528 square feet with an eco-mode ionizer and has a power input of up to 77.8W.
Pros
Comes with an air quality indicator.
Auto mode.
Used in large rooms.
The filter change indicator helps save the air purifier.
Cons
Although it is a quiet air purifier, with 53.8 dB, some complaints of noise when it works at night.
6. Alen BreatheSmart Silver Filter Customizable Air Purifier
Of all the best air purifiers for mold in the market, Alen BreatheSmart Silver Filter Customizable Air Purifier stands out for one reason. Of course, there are other reasons why you'll love it, but it comes with a LIFETIME WARRANTY!
The other thing you will love about this purifier for mold and mildew is that it not only works better to remove mold from the house but is also ideal for large rooms. Alen, the manufacturer, states that Alen BreatheSmart Silver Filter Customizable Air Purifier is ideal for rooms as large as 1000 square feet.
Alen BreatheSmart Classic HEPA Air Purifier with Fresh Filter, Absorbs Light Household Odors, Pollution, VOCs, Captures...
H13 HEPA FRESH Filter: absorbs light household odors, chemicals and light smoke. This Fresh Filter uses activated carbon to mitigate common household odors and absorb chemicals/VOCs. The Fresh filter...
VALUE MEETS POWER: The BreatheSmart Classic delivers powerful filtration and outstanding performance to large spaces for a fraction of the price.
ROOM SIZE: The BreatheSmart Classic quietly and efficiently circulates the air in rooms up to 1,100 sq. ft. every 30 minutes. Perfect for living rooms and other large rooms.
ENGINEERED TO PERFORM: Alen air purifiers offer superior performance through the combination of a powerful fan, quiet motor, and advanced filtration technology to deliver and maximize airflow while...
FOREVER GUARANTEE: Alen offers the industry's only Forever Guarantee. When you enroll in a filter subscription, your Alen air purifier is guaranteed for life. If you ever have issues with your unit,...
The air purifier comes with multiple control panels. Alen BreatheSmart Silver Filter Customizable Air Purifier has 15 diverse control panels.
With this quiet air purifier for mold that emits red, pink, and white noise, you will enjoy a disruptive-free and soothing sleep while the appliance is working.
Alen BreatheSmart Silver Filter Customizable Air Purifier is fitted with four-stage air purification, which is enhanced by 14 color options on the control panel that will match your house's interior décor.
Pros
Lifetime warranty.
It can be used in large rooms (up to 1,100 square feet).
Extra quiet.
Reliable (my friend has four dogs, and this air purifier does its work).
A colorful control panel.
Cons
It might be expensive for some.
7. IQAir [HealthPro Plus Purifier] with HyperHEPA Filter Medical-Grade
IQAir [HealthPro Plus Purifier] with HyperHEPA Filter is one of the high-end air purifiers I have personally seen.
It can clean the air around it up to 100 times more than any air purifier you have used. It is no joke.
IQAir [HealthPro Plus Purifier] with HyperHEPA Filter cleans air and impurities as small as 0.003 microns. Most air purifiers today clean air and particles up to 0.3 microns. This means IQAir's'HyperHEPA air purifier is superb.
IQAir's heap air purifier for mold will still work perfectly in large rooms (1,125 feet square).
Pros
It cleans air 100x faster.
It can clean the tiniest particles and impurities (0.003 microns).
Ideal for extra large rooms (1,125 sq ft).
Best for allergy sufferers.
Cons
It is expensive.
Heavy (35 lbs).
8. Winix 5300-2 With True HEPA Filter
Those who know Winix 5300-2 do not doubt that it is the best air purifier for mold. What if you've never used it? It is essential to know that this cleaner is fitted with a carbon filter. For this reason, Winix 5300-2 can kill airborne pollutants such as mold spores that are usually stubborn.
With a 3-stage cleaning ability, Winix 5300-2 works best for pet dander, mold, organic chemicals, cigarette smoke, pollen, allergens, dust, and odors.
Sale
Winix 5300-2 Air Purifier with True HEPA, PlasmaWave and Odor Reducing Carbon Filter,Gray Medium
True-HEPA filter captures 99.97% of airborne pollutants; dust mites, pet dander, pollen and other allergens as small as 0.3 microns.
3 Stage cleaning, removes a range of allergens: dust, cigarette smoke, pollen, odors, pet dander, mold spores and organic chemicals. CFM (Sleep / Low / Med / High / Turbo) : 35.31 / 70.63 / 91.82 /...
PlasmaWave acts as a permanent filter to safely break down odor, allergens, chemical vapors and other pollutants - with no harmful ozone
Delivered air flow :236 CFM, decibels : 27.8 . Smart Sensor gauges the air and our Auto Mode adjusts the fan to filter the air as needed; with a sleep mode for silent night-time operation
No remote control . CADR rated for 360 sq. ft. Suitable for medium and large rooms; kids bedrooms, baby nurseries and offices
The PlasmaWave Technology, responsible for filtering the air and burning germs, viruses, and harmful bacteria, does not come with damaging ozone. Other features you will love are the SmartSensor and the Auto Mode, which detects the air quality in the room and automatically adjusts the fan's speed to ensure the surrounding is clean.
Winix 5300-2 is ideal for medium-sized rooms up to 360 square feet.
Pros
Comes with quality features such as SmartSensor, Auto Mode, and PlasmaWave. Comparing these features with the price tag, it is worth it.
Easy to assemble.
Excellent for marijuana and cigarette smoke.
Cons
Doesn't work well in large rooms.
Where Does Mold Hide In My House?
Before I talk about particular spots where to look for mold inside your house, I want to point out that mold reproduces extremely fast and in large numbers. Therefore, it is a daunting challenge to curb its spread. Nonetheless, there are the best purifiers for mold that can help you achieve your search.
There might be several thousands of molds in a tiny room. This mold can cause significant health problems because of how mold spreads.
Recent studies indicate that fungi may send trillions of spores into the air. These spores freely find new places to settle. In the end, you'd be looking for mold spores in one corner of the house at one point, but the same spores you are looking for settle in the other corner the very minute. Because they are invisible, these spores' trillions can cause severe respiratory problems to the person trying to wipe them off. This is how dangerous mold is.
The other challenge you face with your bid to eradicate mold from your house is its size. An average mold spore is 1 to 100 microns in size. Usually, it requires a special mold air filter to get rid of such small microns.
The good news, however, is that the world offers some of the best tools for the job. For instance, most of the air purifiers for mold in several online stores today are HEPA filters. This means they can filter air as low as 0.3 microns. You see! This is way below the 1-100 microns, the size of a mold spore.
Still, the question remains, where in my house am I supposed to look for mold? It is good to know that mold does not settle on any surface or in your house. As mentioned in the 'Types of Mold' section above, different types of mold settle on different surfaces. In other words, different mold spores have different preference points in your house.
However, this section shows that mold settles in damp and humid areas. In the end, chances are that you will get a heap of mold at one end of the house but find none on the other corner.
Mold feeds on anything on the surface where they settle. Whether mold spores land on tiles, bare floors, wood, rock, leather, or even plastic, mold feeds on whatever is found on the surface it finds itself.
Familiar Places to Check for Mold in Your Home
The following are the significant areas in your house where you can find mold:
In the kitchen – this is usually around the utensils sink or under it.
Bathroom

– this is the favorite place for many types of mold because the bathroom is usually wet and humid at the same time, especially if any member of your family does a hot shower. You can find mold at the sink in your bathroom and around the tube.

Behind home appliances – mold may settle behind home appliances, especially those that produce moisture. They can be dishwashers, microwaves, refrigerators, and laundry machines.
In the basement
Around the windows

– mold may settle here because of the kind of change in the environment. Sometimes windows let in the fresh air, and once closed, they turn out to be humid.

Attic

 – the roof leaks are also conducive places where mold can hide.
How To Remove Mold From My House
There are two main methods of removing mold from the house. The primary way is to do a thorough physical cleaning. This involves you setting aside an appropriate amount of time each week to clean every corner of your house.
The second way, which is very effective, is to use the best air purifier for mold. I'll tell you why the latter is the most preferable. First, it is essential to know that, in many cases, the biggest problem is not mold. Your enemies are the spores, microns in the form of invisible air that cause and spread allergies and breathing problems.
When you thoroughly clean your house, it becomes a part of the entire cleaning. Even if you use high-end detergents, you will not kill mold spores. This brings me to why I advise you to use the best air purifier for mold and mildew.
Why Use the Best Air Purifier For Mold
The answer lies in mold spores. When you lift your carpet or any rag that you have spread on the floor, and it happens that there is mold underneath, spores disappear into thin air. Will you have killed the allergy-causing spores even if you spent the whole day cleaning the floor? Hardly!
Spores that disappear into the air quickly find a new place to settle. Chances are, these spores will settle where you have cleaned. This is why it is necessary to use the best quiet air purifier for mold.
Air purifiers backed with ultra-violet abilities are ideal for this kind of job. These types of mold are likely to clean the air around the room, thus killing mold spores before they settle in a new place.
How Do Air Purifiers Control Mold Growth?
Indeed, purifiers may not completely kill mold. Even if they did, mold would always be available. The best purifier for mold is to prevent mold reproduction and mold spores. With an excellent mold air filter, a cleaner fitted with high-end features will help ensure your house has clean and germ-free air.
Remember that a mold colon can form and grow inside your house immediately after thoroughly cleaning your house. As mentioned earlier, when you get rid of mold, spores go into the air, find another damp environment in the house, and start forming a new colon.
Regularly using the best heap air purifier for mold will help clean the air in your house and ensure that new mold colonies do not form.
Besides removing mold and mold spores, the best air purifiers for cleaning mold dust remove pet dander, bacteria, dust mite feces, pollen, and smoke, among other harmful microorganisms.
To achieve a clean indoor environment, I advise constantly using the best air purifier for mold. Top on the list is VOC air purifiers.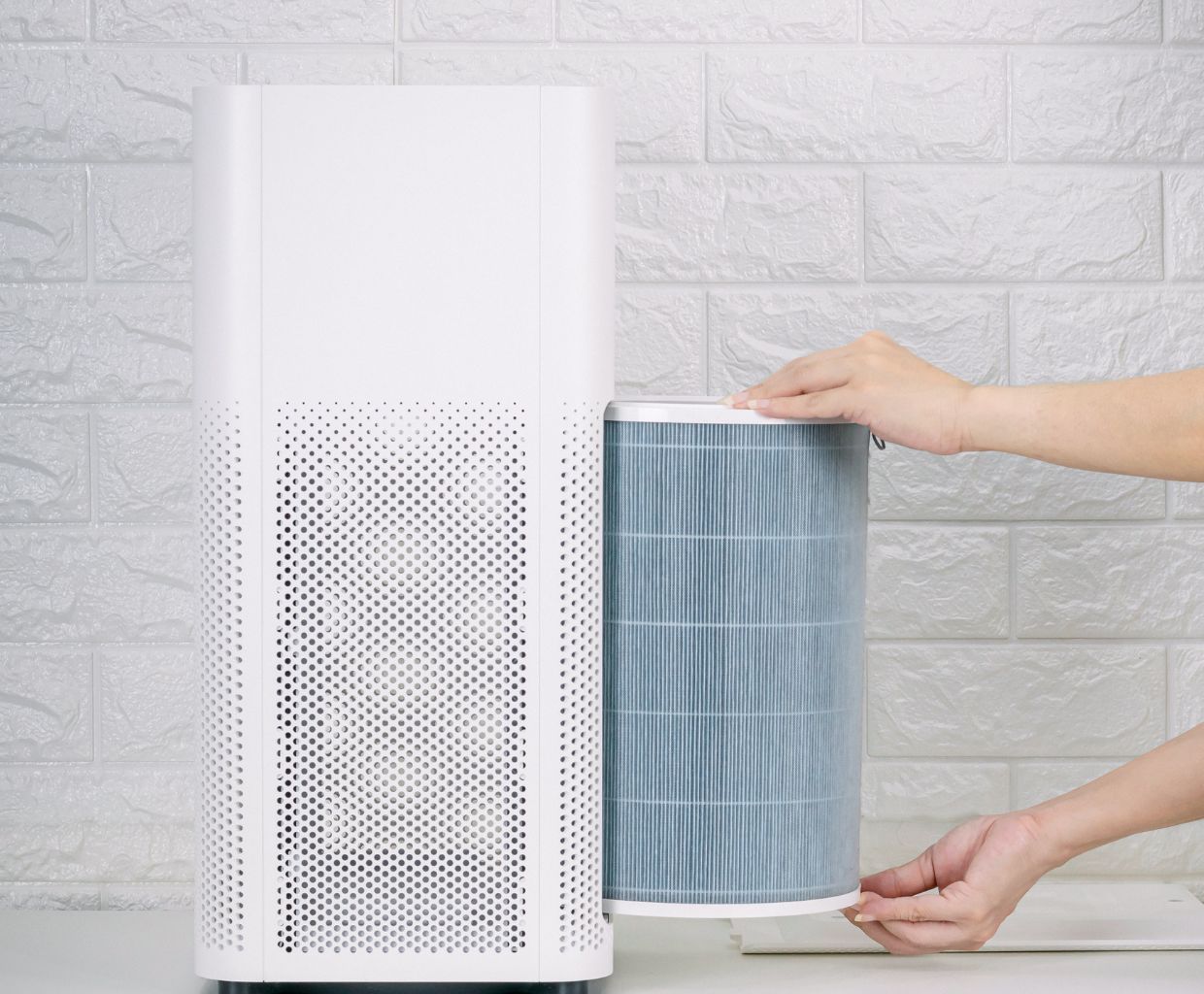 Key Features to Look For in a Mold Air Purifier
When you are on the verge of buying the best air purifier, chances are you have your reasons for looking for this indoor cleaning appliance. Nonetheless, I know you won't mind adding the following three features to your list.
1. True HEPA Filter
Have you seen this several times? But what does the True HEPA filter mean to you? An air purifier with a True HEPA Filter or High-Efficiency Particulate Air Filter is simply a cleaner that meets the standard of use in medical facilities, IC fabrications, homes, aircraft, and automobiles, among other sensitive areas.
2. Ultra Violet Light
I have used this term several times above. UV-C Light is a powerful and essential feature in many modern air purifiers for mold and mildew. Air purifiers with UV-C light clean the air and burn mold spores thanks to their ultra-violet light.
Although most air purifiers with this ability are more expensive than those without, they are worth it. They kill germs, allergy-causing microorganisms, viruses, and various harmful bacteria.
3. Activated Carbon Filter
At times this is referred to as the charcoal filter. Air purifiers with activated carbon filters use high-end chemical absorptions to clean every impure air and particle in a room.
You might be interested in nail salon odor remover.
Conclusions
You love your family, and their health is your priority. Do not allow mold to heap inside your house. The good thing is that you now know how mold can affect your family, the different types, where you can find mold in your house, and the best air purifier for mold to clean the air in your house.
Thanks to my writing, I hope you have a healthy family.