Having clean floors in your house is one thing but maintaining clean air is quite another. That is why you need the best air purifier and humidifier. The good thing about an air purifier combo is that this home cleaning appliance purifies and humidifies the air simultaneously.
Because of its ability, you do not need to buy two separate appliances, thus saving a lot of money. Since you inevitably need to live in a clean environment, there is no doubt that you need to invest in the best air purifier and humidifier that meets your family's needs.
In this article, we'll walk you through the benefits and features of some of the air purifier humidifier combos available today, along with some helpful tips to help you in the model selection process.
Best Air Purifier Humidifier Combo Reviews
For now, look at these five best air purifier and humidifier reviews:
1. Sharp KC-850U Plasmacluster Air Purifier And Humidifier
Sharp, the manufacturer of Sharp KC-850U, is stopping at nothing regarding producing quality home cleaning appliances. Sharp KC-850U is an air cleaner but comes with an extra humidifying function.
No products found.
Features
Although Sharp KC-850U has been designed to clean and humidify the air inside a 254 sq ft room, it still does better in large rooms that measure up to 450 sq ft.
It offers quiet operation.
Sharp KC-850U allows users to purify the air, humidify the air, or both.
AHAM Certified and built-in compliance with energy star.
Sharp KC-850U 2 in 1 has 164 CADR for dust, 174 for pollen, and 164 for smoke.
During cold weather seasons, the humidification feature adds sufficient humidity to the air. This, together with balancing how the ions work to refresh the air inside the house, is easily integrated thanks to the Plasmacluster Technology.
It has an Auto Mode that monitors air purity and the room's humidity.
Pros
The auto mode detects the purity of air.
Excellent in homes with different allergy problems.
Kills germs.
Quiet when in use.
Humidifies and purifies the air.
Ideal for those living in colder regions.
LED light indicator warns you if there's no water.
Suitable for sizeable rooms.
Cons
Heavy in case you need to move around (21 lbs).
2. Venta LW25 Airwasher 2-in-1 Air Purifier Humidifier Combo
Venta LW25 2 in 1 air purifier and humidifier is ideal for sizeable rooms, usually 400 square feet. One thing that stands out about Venta LW25 2-in-1 is that it is built with filterless air purification technology. Besides, you will get a 10-year warranty from the manufacturer.
Features
It has internal disks that help draw dry dust particles before they are cleaned inside its chambers.
It is built with an automatic shut feature, allowing you to do other things during this air purifier and humidifier work.
Big tank to hold enough water (2 gallons).
Venta LW25 2-in-1 can eliminate allergies, harmful bacteria, and germs thanks to its many premium features.
Water refill indicator; thus, you will not be caught unaware.
Pros
Humidifies quickly.
Extremely easy to use and fill.
Energy efficient.
Very portable and compatible.
Suitable for sizeable rooms (400 sq ft).
Lightweight (8.5 lbs).
Cons
3. BONECO W200 2-in-1 Humidifier & Purifier
BONECO W200 2-in-1 heap humidifier by Boneco does its work in a few hours.
You will love this white and sleek home air filter and humidifier because it can humidify 2.22 gallons daily.
All features
BONECO W200 2-in-1 air purifier and humidifier have an innovative evaporator mat that enables the appliance to clean the air in the room efficiently.
According to the manufacturer, BONECO W200 2-in-1 is built to clean and humidify the air inside a large room, approximately 550 square feet.
The machine's components are safe and extremely easy when cleaning them.
BONECO W200 2-in-1 is among the best air purifier humidifiers that easily clean household dust, pollen, and large particles.
 Low power consumption (between 12.2 to 12.8 Watts).
Pros
It has a large water tank that can hold up to 4.5 liters.
Has a fragrance container. With this, you can carry any essential oils you'll like.
Potent levels of humidity output (350 grams each hour).
Very silent when working, usually between 30 and 40dB.
It is fitted with safe components comprising the dishwasher and the washing machine.
Cons
It is costly compared to other 2-in-1 air purifier humidifiers.
4. Oreck WK15500B Air Refresh 2-in-1 Hepa Air Purifier & Humidifier for Baby Room
Oreck WK15500B is a sleek air purifier humidifier combo performed two functions ago. If you do not want the appliance to perform the two tasks, you can turn off one.
Some features
To capture 99% of allergens, dust, and other germs, this best humidifier, and air purifier combo use its 2-stage filtration.
The HEPA media filter can remove all odors, including charcoal and cigarette smell.
This humidifier purifier does its job quietly all the time when on.
Oreck WK15500B air purifier and humidifier are all in one and are ideally manufactured to suit small rooms like baby rooms. You can use this heap humidifier in nurseries, dens, and bedrooms.
Using its Ultrasonic Technology, Oreck WK15500B adds essential moisture to dry air in the room. This process does not require the use of hot steam.
Pros
It thoroughly filters terrible odors from the house.
Very quiet when working.
Efficiently captures dust, allergens, and other germs.
Moisturizes the air in the room.
Purifies and humidifies.
Works without the use of extra energy to heat water.
Comes with a permanent washable filter.
LED indicator at the consoler alerts you when to replace the charcoal filter.
Cons
5. Deval D-950 Air Purifier Humidifier With True HEPA Filter
To live a healthy life, you need a clean environment. The only way to ensure this is done fast, efficiently, and ineffectively is to use Uddevalla D-950, which uses multiple filters. Click here to see the latest price on Amazon.
Features
The Deval D-950 humidifier purifier combo is fitted with an odor sensor. This sensor makes it possible for Deval D-950 to detect pollutants easily. The effect is that the air purifier-humidifier combo adjusts its fan speed, which improves the room's air quality.
It comes with a tranquil feature, which enables the air purifier and humidifier all in one combo to work even at the time members of the family are asleep.
Has a UV lamp. This tool helps the machine carry out advanced air purification.
This best air purifier humidifier releases negative ions, thus cleaning the room's air.
The ultrasonic humidifier goes a long way in purifying the air in the room and adding the required humidity.
Pros
Extremely quiet.
Easy to set up.
Bright LED lights act as indicators of various aspects of the appliance.
Comes with multiple filtration stages (7-stage).
It offers excellent performance in rooms with an ideal 430 square feet.
Deval D-950 kills all germs, viruses, and harmful bacteria thanks to its ultraviolet (UV) light.
Removes all odors using the odor sensor.
Cons
The humidifier water holding canister is small.
The bright LCD lights are not ideal for some rooms, especially at night.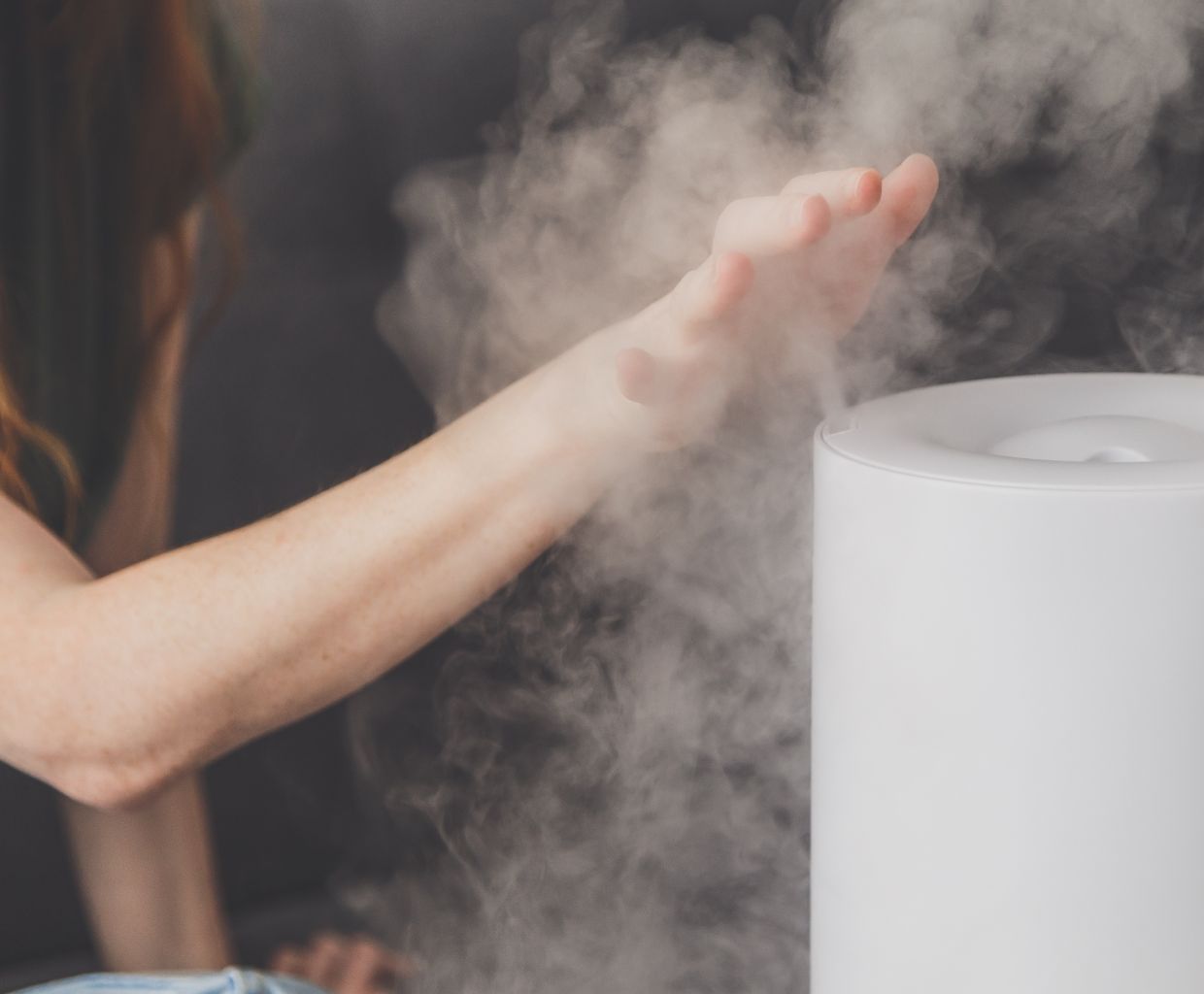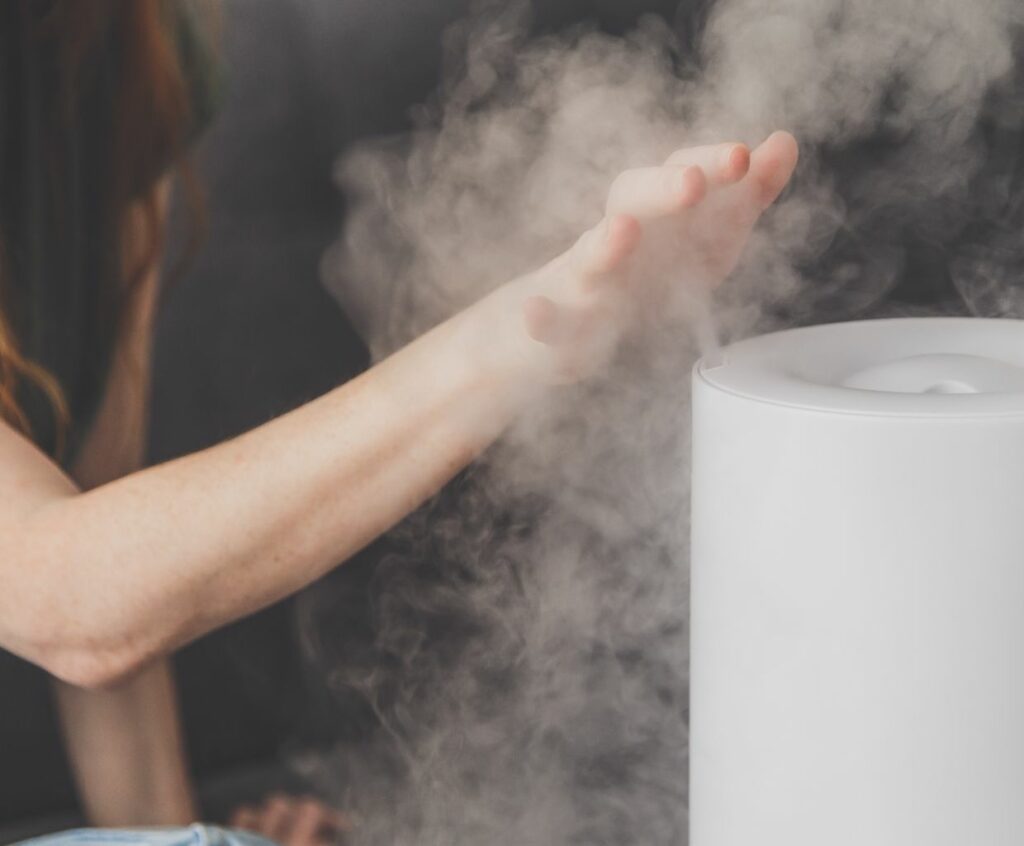 What Is An Air Purifier-Humidifier Combo?
Traditionally, you'd need an air purifier to clean the air in a room or house. Different air cleaners use different filters to clean the air.
But, if you want to humidify the air, add some negative ions, scent, aroma, extra oxygen, and appealing freshness, you'll need another appliance, a humidifier. Those are two distinctive home cleaning appliances.
For convenience purposes, you do not need to buy the two appliances. All you need is an air purifier humidifier combo, one machine that performs the two functions simultaneously.
Advantages Of Buying A Humidifier Air Purifier Combo Unit
As said already in the preceding part, with the best air purifier humidifier combo, you do not need to buy two machines. This brings us to the first advantage.
Buying a humidifier air purifier combo unit will help your family save a lot of money. Considering their prices, air purifiers and humidifiers will be costly when bought separately. But buying a unit that provides what two appliances can offer will work for you.
Additionally, these are home cleaning appliances that use electricity. If you buy two separate appliances, your electricity bill will inevitably hike at the end of the month. In sharp contrast, an air purifier humidifier combo unit won't use much.
Today, many people do not live in large rooms. Space is increasingly becoming scarce. Depending on the number of family members, and different home appliances, you need a unit that can do many things.
If you bought a humidifier and an air purifier separately, you'd need ample space to store them compared to a combo unit that does the same job.
Remember that an air purifier-humidifier combo does two things simultaneously. Yes, as the machine purifies the air in a room, it also releases negative ions into the air, thus humidifying it. In a way, if it'd taken 30 minutes to purify the air and another 30 minutes to humidify the same room using a different machine, you'd have wasted half an hour.
Frequently Asked Questions
Can Air Purifier – Humidifier Combos Improve Health?
While the answer is a resounding 'Yes,' it would be essential to explain how. First, remember that these two machines have been put together in one unit to perform two distinctive functions. Once the air in your home has been purified, a good air purifier and humidifier combo unit will add sufficient humidity.
Here is the thing, dry air, however much you'll try to purify it using an air purifier, will still carry certain germs, usually unseen by the naked eye. These tiny dust particles, germs, and harmful bacteria lead to family members having cracked lips, dry sinuses, running, and even bloody noses. But, with the help of an air purifier humidifier combo, all these are history.
Many have complained that dry winter air has brought various health problems to their family members. Respiratory problems, dry, persistent coughs, and chapped skin are some health complications associated with dry air. However, you can alleviate some of these problems with a combo unit.
According to the World Health Organization (WHO), more than 4.6 million Americans died of chronic respiratory illness between 1980 and 2014. The same report says that in 1980, out of every 100,000 people, 41 died of CRI. Later, that number rose to 53 deaths out of 100,000 in 2014. Centers for Disease Control and Prevention (CDC) goes further to break down when it says that more than 650,000 people die yearly from respiratory-related cases.
Although WHO did not mention the remedy, these deaths likely resulted from the victims inhaling contaminated air. This explains the usefulness of having the best air purifier-humidifier combo.
Is An Air Purifier And Humidifier The Same?
No! The two are different. Although they help clean the air inside our homes, their functions differ slightly; where one ends its duty, the other picks from there.
An air purifier will clean the air in your house by capturing dust particles into its filter and removing bacteria, foul odor, and several other allergens from the house.
On the other hand, a humidifier increases or reduces the air's humidity, thus the name humidifier. In other words, it adds water to the air.
In the end, you will find that a humidifier unit will go a long way in helping your family stay healthy because the water these machines release into the air helps to contain health issues resulting from dry air in the house.
Are Air Purifier Humidifier Combos As Good As Their Separate Counterparts?
They all do the same job. A separate air or humidifier can do the same job as an air purifier combo unit. However, as I explained above, there are many advantages when you have one unit that does the same job in one go. You may consider referring to the above section with the heading, "Advantages of Buying a Combo Unit."
Are Air Purifiers – Humidifiers Easy To Maintain?
Oh, yes! They will not give you problems when maintaining them. It would help if you reached that conclusion after looking at the best air purifier and humidifier reviews.
Most of these machines are premium, with sleek and compact designs. Breaking is not a norm. Hardly do users complain of their heap humidifier purifier breaking.
Besides, most air purifier and humidifier combos today, especially those reviewed in this article, come with various top-notch features that help maintain the appliances.
For instance, most humidifier air purifiers today come with LED indicators and auto-shut sensors and do not have ordinary filters. These features and functionalities make it easy to maintain them.
If your humidifier purifier combo develops a problem that requires an expert, it won't cost you a lot. The expert will quote a service charge for one machine. This would not be the case if you had separate machines that needed expert repairs.
Air Purifier And Humidifier Combos – My final thoughts
Having the best air and humidifier is one of the most outstanding achievements this year.
The unit will save you money, time, and storage space and help you and your family live a peaceful and healthy life for a long.