The best Honeywell air purifiers are worth buying because they clean air thoroughly by removing even the tiniest microns of dust. Because they're versatile, Honeywell air filters can easily capture particles like mold, pollen, pet dander, and smoke and quickly clean the air in different rooms.
While Honeywell air purifiers are products of the same company, it's essential to remember that they differ. They come in different colors, they cover different room sizes in square feet, and their prices differ from one option to another.
Which are the Best Honeywell Air Purifiers?
This article will examine some of the best true HEPA Honeywell air purifiers today. We'll highlight the unique features of each product. And we'll tell you their pros and cons.
At the very least, this guide should help you choose a Honeywell air filter easily.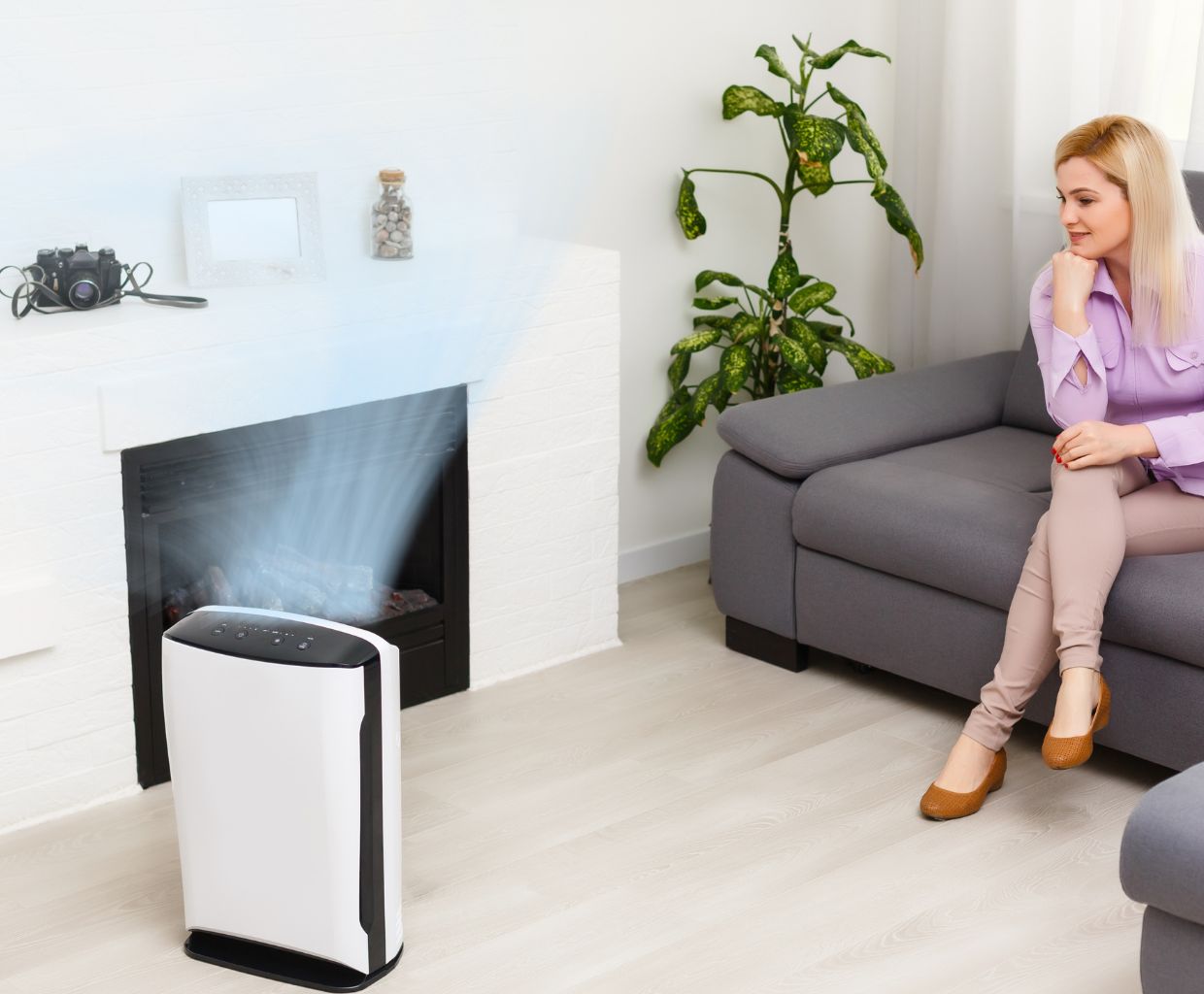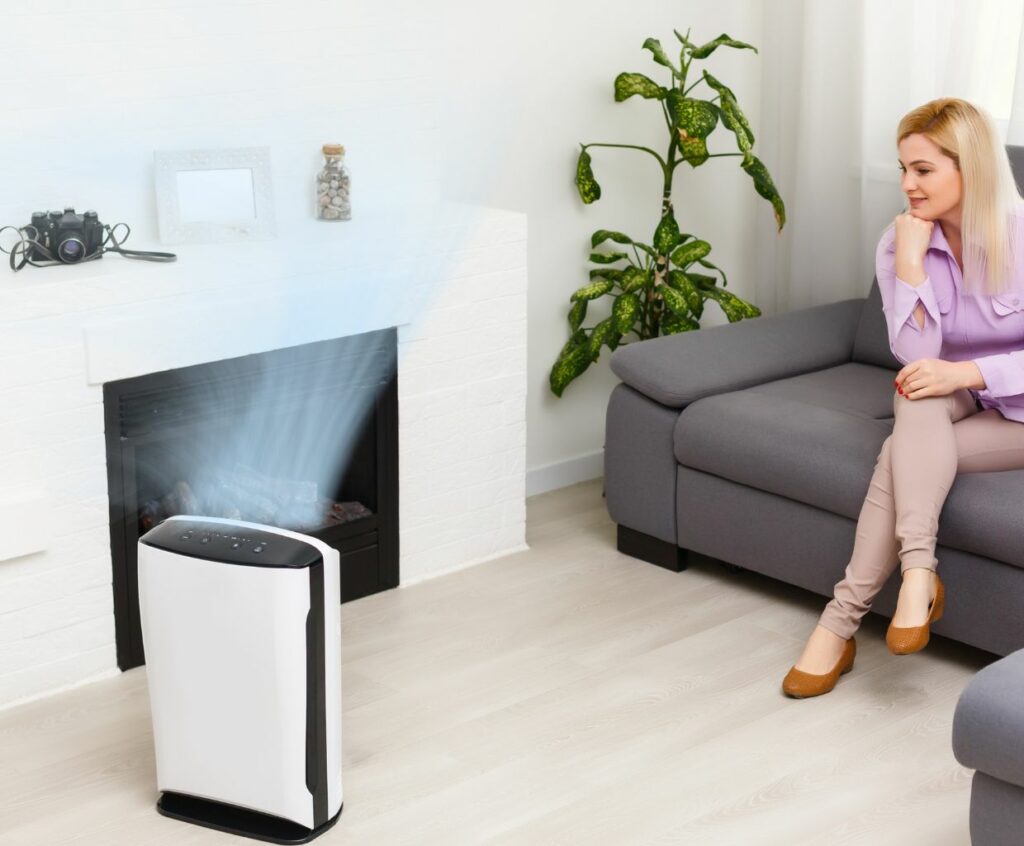 1. Honeywell Professional Series True HEPA Air Purifier
The Honeywell Professional Series is an excellent option to help you purify a room as large as 325 square feet. It can effectively capture up to 99.97% of particles in the air, including bacteria and viruses. And the best part is that it's one of the most effective air purifiers under $500.
No products found.
Features
The Professional True HEPA Air Purifier has particle and VOC sensors that monitor air quality in your room. It also has an LED display unit that provides real-time air quality feedback. The indicator will show the air quality as clean, fair, or poor.
The unit features a premium design, which means you get a durable product for the money. This should serve you for a very long time to come.
Honeywell Professional Series utilizes mechanical filtration processes that pull air that has particles through its fans and absorb the pollutants. The mechanical filtration then forces the air through the True EPA filters again to effect cleaning and boost the circulation of clean air in your room to breathe quality air.
This unit features a Sleep Mode, which dims the LED lights and then operates at the quietest speed to give you peace of mind when sleeping.
Pros
This air purifier has durable filters that only require replacement after a year of service. Replacing the filters is easy; you will not need a technician or tools to remove a worn-out filter and fix a new one.
This model automatically adjusts indoor pollutant levels and cleans the air while you sit back and relax.
Cons
The Honeywell Professional Series True HEPA Air Purifier is perfect in design and performance. However, some drawbacks exist when using a vacuum clean to remove trapped particles. The dust, animal fur, and other forms of dirt on the screen make the unit appear dull and challenging to clean.
2. Honeywell Genius Air Cleaner/Odor Reducer
Honeywell Genius Air Cleaner comes at a pocket-friendly price of under $200. And it has highly effective air filters that easily capture pollutants from the air. This air filter can eliminate pollution with 99 percent accuracy, irrespective of the size of the dust/dirt.
One of the things that we love about this Honeywell air filter is that it meets the federal guidelines for energy efficiency and utilizes easy-to-use tap controls that will give you a 5-level air cleaning performance.
No products found.
Features
The device has an outstanding performance on air-cleaning using touch controls that capture nearly 100 percent of the dirt.
The Patented QuietClean ifD technology in the device improves the air-cleansing process to eliminate allergens and harmful gases.
It has Auto-On/Off oscillation and a 2-12 hour automatic switch-off timer that allows you to preset the running time.
The machine has bright touch screens for controls to reduce the work needed to control it manually.
This unit may not be big enough, but it still cleans air quite well, quickly covering a room of 250 square feet.
Pros
The air purifier can operate effectively and quietly in relatively medium rooms.
The product has a permanent and washable filter that does not require replacement and the pre-filters you can replace every month.
Two pre-filter options and the washable foam pre-filter and odor-reducing pre-filter make air purification almost 100% efficient.
It has a sleek design and five clean settings, including sleep, germ, allergen, and maximum settings.
Cons
The air purifier has the drawback of making noises when the fans are old and imbalanced. This might make it noisy even in sleep mode, and you might have to switch it off. The problem can be attributed to the positioning of the e-motor that powers the fan bearing on top of the machine.
The pre-filter attracts a lot of dust due to static charges, and the only way around this is compatible replacements, maybe once every three weeks.
3. Honeywell 17000-S QuietCare True HEPA Air Purifier
Honeywell 17000-S QuietCare is one of the most effective air filters in the brand's product line. Because it's an inexpensive model, it makes it the best alternative to the Honeywell Professional Series. Click here to see today's price on Amazon.
This unit can clean up to 99 percent of your room's air. It's so powerful that it can suck up microscopic allergens starting from 0.3 microns in diameter. However, it doesn't cover a large area. Designed to work for rooms like bedrooms that don't exceed 200 square feet, this one is a good option only for someone with a small room.
Features
Honeywell 17000-S QuietCare has two filters that clean the air in your room.
It has Honeywell's IntelliCheck system, which allows you to monitor the filters' lives.
Each filter connects to an LED light, which blinks or shines steadily when activated. A single blink on the filter indicates a longer life than two blinks, while three blinks or a steady light indicates you need to replace the filters.
The air purifier has Surround Seal Technology, which optimizes performance and minimizes air leakages.
Pros
This air purifier utilizes three cleaning levels: Tobacco Smoke-130, Dust-130, and Pollen-1Electroniconic push buttons to minimize noise and make it 35% quieter while working.
The HEPA filter can last one to three years, while the pre-filters will serve you for three months.
The light indicators ensure you replace the filters on time, and replacing them is easy.
This Honeywell air filter has a five-year warranty, so you will surely get value for your money.
The air purifier is portable, and you will enjoy the convenience of shifting it to various rooms in your house.
Cons
The air purifier produces a white noise that might annoy some users. It's, therefore, not an ideal option for people who prefer quiet air purifiers.
The rubber on the filters produces a pungent plastic/rubber smell that might irritate your nose.
The air purifier's motor also gets faulty if left running for a long time, and you might have to keep replacing it.
The Honeywell 17000-S QuietCare might disappoint if you leave it working all night because it can quickly burn the motor.
4. Honeywell HDF QuietClean Air Purifier
This device features oscillating air filters that boost air circulation in the house and help capture more than 90 percent of particles in the air. It's so effective that it can easily capture dust particles that are even two microns in diameter.
This air filter is effective for persons with allergic infections because it clears the air of dust, smoke, pollen, mold, and pet dander once the air passes through the filters.
No products found.
Features
This unit has permanent filters in the tower that clean the air in your room on three levels.
The machine is Energy Star-certified, which means it is effective in terms of power consumption. In other words, you can use it without worrying about a little spike in your annual power bill.
The on/off oscillation control and washable permanent pre-filters can clean the air in your room for a long time without necessarily replacing them.
The brand has optimized the filter's property to reduce odors in the air and trap VOCs that might enter your respiratory system and trigger infections.
Pros
This air purifier gives you peace of mind by removing dirt from the air in your house while improving air circulation up to five times per hour. With this machine at work, you can be sure that everyone in your house will always breathe quality air.
Honeywell HDF QuietClean air purifier improves air circulation in your room by neutralizing odors throughout the year.
This air purifier is energy-efficient.
The permanent air filters do not require replacements that come with additional costs. The air purifier uses permanent pre-filters and HEPA Clean filters to ensure optimum air cleansing.
Cons
Probably one of the worst things about this machine is that it requires frequent cleaning of the filters to continue serving you, unlike many air filters out there. So, if you choose to use this one over other Honeywell models, you should be ready to clean it more often.
The air purifier can cause headaches, especially when turned on for a long. This is because it creates an instance of ozone, which isn't healthy for you.
5. Honeywell 50250-S True HEPA Air Purifier
You'll find this helpful if you are in the market for an air purifier that can clean a medium-large room. The Honeywell 50250-S model can clean air in a room as large as 360 square feet, making it the best alternative to the 17000-S QuietCare model.
Using this in an ample space isn't the only thing that makes it stand out. The unit quickly removes odor and particles suspended in the air to over 98 percent.
No products found.
Features
The 360-degree system, which takes air in and out of the cleaner, ensures that the machine efficiently maintains evenly purified air in your room.
It uses a Surround Seal Technology to minimize air leaks and increase effectiveness.
The unit's True HEPA filters capture more than 98 percent of dirt, including particles, some of which are as small as 0.3 microns.
The round shape of the device ensures that air circulates evenly all over the room.
The Honeywell 50250-S air purifier has a powerful, fun motor that draws air from all over the room and then pushes it out when cleansed to promote clean air circulation in your room.
Pros
The device has carbon pre-filters that capture the larger particles in the air and reduce the air's odor.
The filter light reminds you when to replace the filters, and you do not need any special skills or tools to replace them.
Cons
The machine is quite adequate, but you might have to ignore the bright blue backlight, which sometimes will distract your sleep or that TV-watching moment. You can get around this setback by covering the light with an opaque material like a piece of cloth at night.
The other drawback is the sound, which might still disturb your ears even in low and medium settings. You can solve this problem by placing the air purifier away from you, preferably in the extreme corners of your room.
6. Honeywell True HEPA Air Purifier with Allergen Remover
The Honeywell HPA100 air purifier is a good option for small and medium rooms. We love the fact that you will find this unit particularly useful when it comes to removing allergens. So, if you are looking for an air purifier that can clean air and clear allergies simultaneously, this will give you the best value for your money.
No products found.
The HPA100 model works well in a room of up to 155 square feet, and it can capture impurities in the air with an accuracy of more than 95 percent. Apart from improving air circulation while cleansing it of allergens, this model can also remove stale air that makes your room uncomfortable.
Features
The air purifier has a quiet operation mode that reduces noises made by the fans, and it has an Auto-Off Timer feature, which allows you to plan when the purifier turns ON/OFF.
The device has air cleaners that neutralize odors, and the fans are strong enough to increase air circulation in your room up to five times per hour.
The machine has carbon pre-filters to absorb VOCs, gases, odors, and even larger particles.
Pros
The fans run continuously to absorb dirt from the air such that the air pumped out into the room is safe to breathe.
The model filters only need a replacement after three months. The replacement process is easy, and you can be sure that the maintenance costs are low.
Airborne particles are absorbed even when as small as 10 microns; otherwise, they would get deep into the respiratory tracts and cause lung infections.
Cons
The air purifier works perfectly if you replace the pre-filters on time. The challenge, however, is the scarcity of pre-cut filters when the time comes to replace the old ones. You might have to cut them yourself or hire a technician if you do not find a pre-cut one from the stores.
The other challenge is the smell that might come with new replacements that might fill your room with a plastic/rubber smell.
7. Honeywell HPA300 Air Purifier
If you are looking for an air purifier that can easily clean large rooms, you may consider Honeywell HPA300. The HPA300 model can clear air in a room as large as 465 square feet. The brand optimizes this model so well that it can even remove allergens from the air in your room.
No products found.
You will love the HPA300 model because of its ability to clean air thoroughly. Like other Honeywell units, this machine can quickly suck up even the smallest dirt particle in your room.
Features
The Honeywell HPA300 utilizes a three-air cleaning level-plus setting to capture pet dander, pollen, dust, and germs and reduce odors.
The powerful fans in the machines help absorb air from all over the room and then pump it to all edges of your room such that air circulation is improved and freshened.
The design of the air purifier serves you in all positions of the room due to the almost circular shape that absorbs and emits air in all directions.
Pros
The machine can purify the air and improve its circulation up to 5 times per hour such that the air in your big room is evenly fresh and free from allergens and germs.
Replacing the filters is easy, so maintenance can be done at home, and the spare filters are readily available.
The certified Honeywell Replacement Filters can last a year before you consider buying new ones.
The machine is solid and effectively boosts air circulation in large rooms while capturing germs and removing odor. The machine is easy to use and will reduce the stress of dealing with allergies.
Cons
The Honeywell HPA300 has the challenge of producing audible noise when operating on the Turbo level.
The other challenge could be the sensitivity of the touch controls because they might get slow and require manual controlling.
The blue LED light might be disturbing at night, but you can solve this problem by masking it with a thick material.
Frequently Asked Questions
Are Honeywell Air Purifiers Good?
From their effectiveness in cleaning small, medium, and large rooms, Honeywell air purifiers are good options to invest money in. Besides, they come from a reliable brand with years of experience in air purification technology.
The options we've looked at in this guide include a True HEPA filter, now a standard in air purification because of its effectiveness in thoroughly cleaning air to a tune of more than 98 percent.
How Do I Clean My Honeywell Air Purifiers?
Cleaning is easy. Remove the washable pre-filter from the machine and shake it to remove dust. Dip the filter in warm water and wash it by hand. Could you let it dry and then put it back in place?
Do Honeywell Air Purifiers Produce Ozone?
One of the best things about Honeywell air purifiers is that they don't produce ozone. So you can use them with the certainty that no matter how long you run them, they will not irritate your lungs.
Honeywell Air Purifiers – Conclusions
Your selection of the best Honeywell air purifier should be informed by its efficiency in giving you a fresh and healthy breathing space in your room. The various Honeywell air filters described in this article are specific. Their optimum performance can only be attained if they operate smaller or equal to the recommended room spaces.
I recommend purchasing one that can be timed to switch on/off automatically and clear the air of allergens and one that is appropriate for the size of your room.